Jos Verstappen (born 4 March 1972, in Montfort) self-styled "Jos the Boss" is a Dutch racing driver. He is the most successful Dutch Formula One driver, and has also won races in A1 Grand Prix and Le Mans Series LMP2 races. Prior to his F1 début in 1994, he was also the German Formula Three champion and Masters of Formula Three winner in 1993.
On August 18, 2014, it was announced that Jos Verstappen's son, Max Verstappen, will debut in Formula One in 2015 for the Toro Rosso team.
Verstappen first drove a Formula One car when he tested for the Footwork Arrows team alongside Gil de Ferran and Christian Fittipaldi at the Estoril circuit in Portugal. The test took place on September 28, 1993, two days after the Portuguese Grand Prix was held at the same circuit. Despite the large increase in power (from a 175 bhp Formula Three car to the 750 bhp of Formula One), Verstappen set a time that would have qualified him in the preceding race on his fourth timed lap, and improved his time by more than a second after 65 laps. His best lap time of the day was 1:14.45, which was only 0.07 seconds slower than regular driver Derek Warwick had lapped during qualifying, and would have placed him tenth on the grid, a highly impressive performance for a first test. He tested again on September 30 and was lapping near his existing record after five laps, but then crashed the car, ending the test early.
After the test, Verstappen was contacted by every Formula One team except Ferrari and Williams, and was eventually signed as the Benetton team's test driver for the 1994 season.
After a crash in pre-season testing by regular driver JJ Lehto (who broke a vertebra), Verstappen drove in the first two races of the season as a substitute, partnering Michael Schumacher and made his Formula One debut at the 1994 Brazilian Grand Prix. During the race he collided with Eddie Irvine, which triggered a multiple accident also involving Éric Bernard and Martin Brundle. Verstappen's car somersaulted, but he emerged unharmed. At the Pacific Grand Prix Verstappen ran 6th but spun off on cold tyres immediately after a pit stop. Lehto was fit for the next race at Imola, but his performances in subsequent races were disappointing and he was rested by Benetton following the Canadian Grand Prix, allowing Verstappen to return to the race seat.
One of the most dramatic incidents affected Verstappen at the German Grand Prix. During his first scheduled pitstop during the race, fuel leaked onto the car after the fuel hose was disconnected, setting the car, with Verstappen in it, ablaze for a brief period. As was usual at the time, Verstappen had slightly opened the visor of his helmet for the pit stop, and he walked away with slight burns to his nose. After this incident the fuel delivery hose was modified to incorporate a fail-safe cut-out system.
A high point in this season was Verstappen's third place during the next Grand Prix in Hungary, Schumacher having allowed Verstappen to unlap himself on the final lap to pass Martin Brundle's stricken McLaren-Peugeot. He took another third place at the Belgian Grand Prix due to Schumacher's post-race disqualification from victory, and a fifth place at the Portuguese Grand Prix. A curiosity was his accident during a practice session for the French Grand Prix at Magny-Cours, in which Verstappen rammed his car into the pit wall causing debris to fly up and destroy a TV installation. Due to this accident, this equipment is now protected from the race track by acrylic glass.
For the last two races of the season, Verstappen was replaced by the more experienced Johnny Herbert in a bid to win the Constructors' Championship for Benetton. The team was unsuccessful in this aim and the prize went to the rival Williams team.
In 1995 he was loaned to Simtek by Benetton team principal Flavio Briatore. Despite some strong showings (including running 6th at the Argentine Grand Prix before a poor pit stop and subsequent gearbox failure) Verstappen only finished once in the five races he drove for the team due to technical difficulties. The team had deep financial troubles and went bankrupt after the Monaco Grand Prix. Out of a race drive, Verstappen did some test driving with Benetton and Ligier (then part-owned by Briatore and Tom Walkinshaw). Briatore decided against taking up his option for Verstappen in 1996, signing Jean Alesi and Gerhard Berger to drive instead.
In 1996 he drove for the Footwork team and impressed in the early rounds, running 5th in Interlagos and finishing 6th in Buenos Aires. Shortly after the team was taken over by Walkinshaw's TWR organisation. During the Belgian Grand Prix a part of the suspension of Verstappen's car broke off, causing him to crash heavily. He ended up with a prolonged neck injury. Initially Verstappen featured strongly in Walkinshaw's plans for 1997 (the new owner at one point threatening to replace him with a pay driver unless he signed for another season) but the surprise availability of Damon Hill (soon to be crowned World Champion) saw him dropped instead. His form in the second half of the season dropped off as development on the 1996 car ground to a standstill, TWR Arrows focusing instead on 1997.
In 1997 he went to the Tyrrell team but did not score any points, though he briefly ran 5th in the Canadian Grand Prix. The team suffered from an underpowered Ford Cosworth EDV V8 engine and a lack of funding leaving Verstappen and team-mate Mika Salo struggling towards the rear of the field. Verstappen's best result for the team was 8th at the wet Monaco Grand Prix.
Before the 1998 season Tyrrell were sold to British American Tobacco, who intended to rebrand the team as British American Racing in 1999 after one final season under the Tyrrell banner. Ken Tyrrell wanted to retain Verstappen alongside Tora Takagi but BAT insisted on taking pay driver Ricardo Rosset alongside the young Japanese driver. Tyrrell himself left the team in disgust over the matter, leaving Dr. Harvey Postlethwaite to run the team.
Out of a regular drive for 1998, Verstappen tested for Benetton once again early in the year, but the team would not hire him as a permanent test driver for lack of sponsors. As an experienced, fast free agent Verstappen was a common name mentioned in pit lane gossip as a replacement for underperforming drivers. He would eventually return to the series at the French Grand Prix, replacing Jan Magnussen at Stewart. However, the car was uncompetitive, the team struggled to run two cars to the same level and Verstappen did not perform significantly better than his predecessor. Johnny Herbert was signed to partner Rubens Barrichello for 1999 and Verstappen was left casting around for a drive again.
However, for once it looked like things were going in the right direction for Verstappen. Near the end of 1998 he became the test driver for the Honda Formula One project. He teamed up with old Tyrrell friends Rupert Manwaring and Harvey Postlethwaite, planning to test the new car in 1999 and join the series in 2000. All went well for the operation, with the testing hack showing well against upper-midfield teams such as Benetton and Williams in various test sessions until Postlethwaite died of a heart attack. Not long after, Honda changed their plans from becoming a fully factory team to just an engine supplier and Verstappen was again without a Formula One seat.
He tested for the Jordan team in case Damon Hill decided to retire before the end of the season but this came to nothing when Verstappen's testing performance was underwhelming and Hill resolved to see out the season.
In 2000 he returned to Arrows, who had put together an impressive package including Supertec engines, a neat chassis with good straight-line speed and a bevy of sponsors (Dutch communications company Orange playing a part in Verstappen landing the seat). The car proved to be unreliable but its speed allowed Verstappen and team-mate Pedro de la Rosa to dice with the front runners at several circuits (albeit partly due to the design's small fuel tank meaning the cars were often lighter than their rivals). In his second race back at Interlagos he ran 6th before spinning due to a sore neck brought on by his lack of recent seat time. In the wet/dry Canadian Grand Prix (wearing an orange helmet in honour of his national football team's participation at Euro 2000) he drove superbly in the later stages to move into a strong 5th position and score his first points since 1996. After the first corner accidents in Austria de la Rosa and Verstappen ran 4th and 5th but mechanical problems sidelined them both. Verstappen would score only once again, a strong 4th place at Monza.
For 2001 he was retained by Arrows. The Supertec engines were replaced by Asiatech units and de la Rosa was dropped on the eve of the season in favour of the Red Bull-backed Enrique Bernoldi. The package was more reliable but less competitive and Verstappen was hurt on occasion by indifferent qualifying form (often lining up behind his rookie team-mate on the grid). Highlights of the season included running 2nd at Sepang having started 18th, making a superb start and running well in changing conditions before dropping to 7th and later scoring the team's only point of the year for 6th at the A1-Ring. Less impressive were his performances at Interlagos, where he ran into the back of leader Juan Pablo Montoya just after being lapped and Montreal where he moved into the top 6 but asked too much of his brakes and crashed out on a day when points were possible.
Nevertheless he had re-signed to drive for Arrows in 2002 only to be dropped at the eleventh hour in favour of Heinz-Harald Frentzen. Later that year he almost signed a test contract with Sauber but he turned out to be physically too large for the car, which was smaller than its predecessor.
He returned to the cockpit in 2003 with Paul Stoddart's European Minardi team, considered the tail enders of the grid. With limited funds and underpowered engines it was a difficult season with little opportunity to shine. His best result was 9th at the Canadian Grand Prix, one place away from a point under the new scoring system. At the Brazilian Grand Prix he had been running ahead of eventual winner Giancarlo Fisichella on the same strategy only to spin off on standing water, but generally the year was one to forget – and many noted that Verstappen was largely outperformed by rookie team-mate Justin Wilson. At the end of the year he left the Italian team because he did not feel like driving in the rear-guard for another year.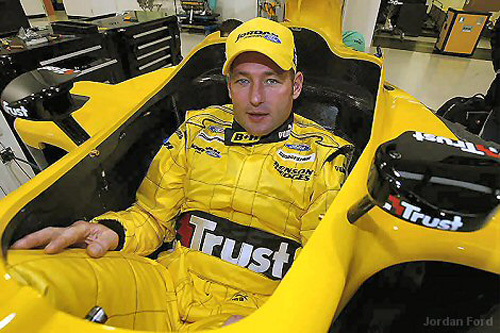 Out of a drive for 2004 Verstappen was considered as a replacement for Giorgio Pantano at Jordan partway through the season but was unable to fit in the car and began looking for drives outside Formula One for the following season.
Verstappen participated in 107 Grands Prix. He achieved two podium places, and scored a total of 17 championship points which makes him the best performing Dutch race driver in Formula One to date. His highest qualifying position was 6th, at the 1994 Belgian Grand Prix.
Verstappen was married to the Belgian ex-kart driver Sophie Kumpen, with whom he has two children: Max (b. 1997) and Victoria (b.1999). Max is currently competing in the Formula 3 Euro Series, and will drive for the Scuderia Toro Rosso F1 team in 2015.
More information on verstappen.nl
Overview Dutch Formula One drivers:
Jan Flinterman (1952)
Dries van der Lof (1952)
Carel Godin de Beaufort (1957 – 1964)
Ben Pon (1962)
Rob Slotemaker* (1962)
Gijs van Lennep (1971 – 1975)
Roelof Wunderink (1975)
Boy Hayje (1976 – 1977)
Michael Bleekemolen (1977 – 1978)
Jan Lammers (1979 – 1992)
Huub Rothengatter (1984 – 1986)
Jos Verstappen (1994 – 2003)
Robert Doornbos (2004 – 2006)
Christijan Albers (2005 – 2007)
Giedo van der Garde (2008 – 2014)
Robin Frijns* (2013 – 2014)
Max Verstappen (2014 – …)
Nyck de Vries (2022 – …)