International Volvo Photo Locations Part 235


This Cadran solaire is locatd on Quai Rauba Capeu at the Rauba Capeu in Nice.
A Cadran solaire is a Sundial, a device that tells the time of day by the apparent position of the Sun in the sky. In the narrowest sense of the word it consists of a flat plate (the dial) and a gnomon which casts a shadow onto the dial. As the sun appears to move across the sky, the shadow aligns with different hour-lines which are marked on the dial to indicate the time of day. The style is the time-telling edge of the gnomon, though a single point or nodus may be used. The gnomon casts a broad shadow; the shadow of the style shows the time. The gnomon may be a rod, a wire or an elaborately decorated metal casting. The style must be parallel to the axis of the Earth's rotation for the sundial to be accurate throughout the year. The style's angle from horizontal is equal to the sundial's geographical latitude.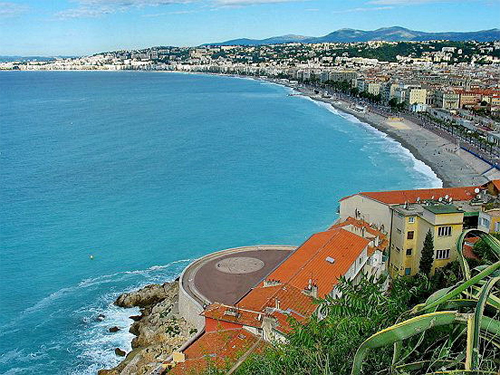 Quai de Rauba Capeu (or, simpler, Quai Rauba Capeu) is the road section which delineates the geographical curvature the seashore described right before the entrance to Port de Nice. Unlike Promenade des Anglais or Quai des Etats Unis, Quai de Rauba Capeu was built no sooner than 2003, after two years of construction works.
Given its higher altitude, Quai de Rauba Capeu provides ample views of Baie des Anges. At the same time, it is fitted with cycle paths and a promenade, which is why cyclists and people who simply enjoy strolling around should definitely search out this part of Nice.
The Monument to the Dead is located on this quay, not to mention the Castle Hill and its wealth of attractions, as well as the tourist sights in Vieux Nice, are all within reach, at a short walking distance.
More information at en.wikipedia.org and www.nice-tourism.com.