International Volvo Photo Locations Part 367



Danmarks Nationalbank is located on Holmens Kanal. Niels Juels Gade and Havnegade in Copenhagen, Denmark.
Danmarks Nationalbank (The central bank of Denmark) is another architectural gem by Arne Jacobsen.
The building's stone and glass facade exudes an air of solemnity and restraint matching its trusted function as the nation's prime money manager.
The main entrance facing Havnegade is as discreet as they come, leading through a glass sluice gate into a wedge-shaped entrance hall. The hall rises with cathedral-like proportions to the height of six storeys.
All walls and floors are marble clad, and only a little daylight filters through the narrow, perpendicular window openings. At the end of the hall, opposite the main entrance, a sculptural staircase in glass and steel is suspended from the lofty ceiling.
A characteristic trait of Arne Jacobsen's architectural work is his meticulous attention to detail.
Offices and corridors were furnished with AJ lamps, doors fitted with AJ handles, bathrooms equipped with AJ's 'Vola fittings', and his 'Banker's watches' came to serve as central bank clocks.
Danmarks Nationalbank is open to the public Monday to Friday at 09:00 – 16:00. Please note that, for security reasons, photography is not permitted inside the building.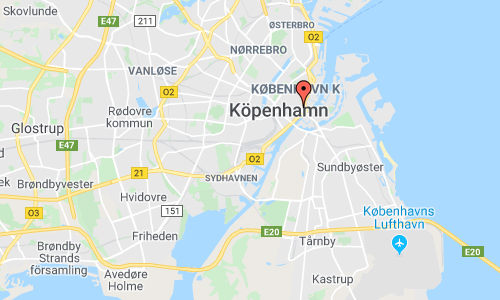 More information at www.nationalbanken.dk and en.wikiarquitectura.com.