International Volvo Photo Locations Part 1



The Niterói Contemporary Art Museum (Museu de Arte Contemporânea de Niterói — MAC) is situated in the city of Niterói, Rio de Janeiro, Brazil, and is one of the city's main landmarks. It was completed in 1996.
Designed by Oscar Niemeyer with the assistance of structural engineer Bruno Contarini, who had worked with Niemeyer on earlier projects, the MAC-Niterói is 16 meters high; its cupola has a diameter of 50 metres with three floors. The museum projects itself over Boa Viagem ("Bon Voyage," "Good Journey"), the 817 square metres reflecting pool that surrounds the cylindrical base "like a flower," in the words of Niemeyer.
A wide access slope leads to a Hall of Expositions, which has a capacity for sixty people. Two doors lead to the viewing gallery, through which can be seen the Guanabara Bay, Rio de Janeiro, and Sugarloaf Mountain. The saucer-shaped modernist structure, which has been likened to a UFO, is set on a cliffside, at the bottom of which is a beach. In the film Oscar Niemeyer, an architect committed to his century, Niemeyer is seen flying over Rio de Janeiro in a UFO which then lands on the site, suggesting this to be the origin of the museum.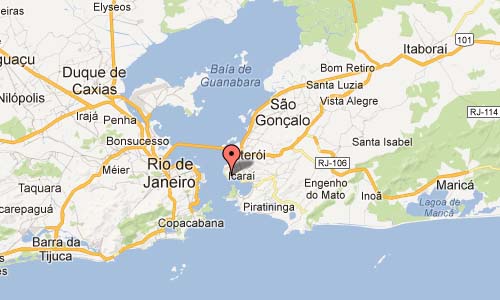 More information at www.macniteroi.com.br and en.wikipedia.org.