International Volvo Photo Locations Part 15



The district of Sant'Eustachio (St.Eustachius) was named after the ancient church dedicated to this saint, which stands in the very center of the rione.
Its medieval name Regio Sancti Eustachii et Vinee Tedemarii, when this was the sixth district, also refers to the vast cultivated estate (vinea) which once belonged to Tedemarius, a now obscure personage who probably lived around year 950.
The heart of this rione is the small and charming square named after St.Eustachius. Here stands a church dedicated to the saint, over whose front is a stag's head. In fact, it was built on the spot where the Roman soldier is said to have been martyrized. Its present shape dates to the 1720s, but the belltower is still from the medieval structure (late 12th century).
In front of the church, in the same square, is one of Rome's most popular cafes, named after the district, where one of the best and strongest coffees in Rome is served; for all locals who happen to pass by this cafe, to stop and enjoy an espresso is really a must, but also a variety of coffee-flavoured sweets are on sale.
Sant'Eustachio Il Caffè is an ancient Coffee Shop and Roaster that was born in the thirties. Located in the heart of Rome, in front of the Senato della Repubblica palace, it is just a few steps away from Piazza Navona and the Pantheon.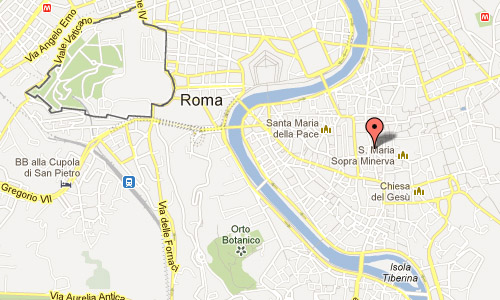 More information on www.santeustachioilcaffe.it and Rome's Historical Districts – VIII – Sant'Eustachio.