International Volvo Photo Locations Part 37


Corcovado, meaning "hunchback" in Portuguese, is a mountain in central Rio de Janeiro, Brazil. The 710-metre granite peak is located in the Tijuca Forest, a national park. It is sometimes confused with nearby Sugarloaf Mountain. Corcovado hill lies just west of the city center but is wholly within the city limits and visible from great distances. It is known worldwide for the 38-metre statue of Jesus atop its peak, entitled Cristo Redentor or "Christ the Redeemer".
The peak and statue can be accessed via a narrow road or by the 3.8 kilometre Corcovado Rack Railway which was opened in 1884 and refurbished in 1980. The railway uses three electrically powered trains, with a passenger capacity of 540 passengers per hour. The rail trip takes approximately 20 minutes and departs every 20 minutes. Due to its limited passenger capacity, the wait to board at the entry station can take several hours. The year-round schedule is 8:30 to 18:30.
From the train terminus and road, the observation deck at the foot of the statue is reached by 223 steps, or by elevators and escalators. Among the most popular year-round tourist attractions in Rio, the Corcovado railway, access roads, and statue platform are commonly crowded.
The most popular attraction of Corcovado mountain is the statue and viewing platform at its peak, drawing over 300,000 visitors per year.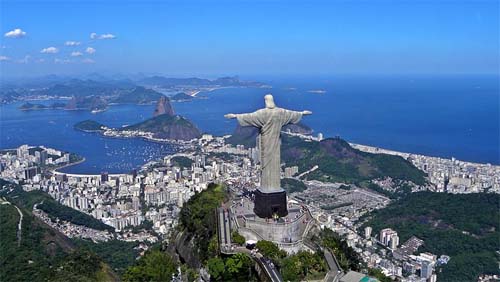 The Cristo Redentor (English: lit. Christ the Redeemer) is a statue of Jesus of Nazareth in Rio de Janeiro, Brazil; considered the largest Art Deco statue in the world and the 5th largest statue of Jesus in the world. It is 30.1 metres tall, not including its 9.5 metres pedestal, and 30 metres wide. It weighs 635 tonnes, and is located at the peak of the 700-metre Corcovado mountain in the Tijuca Forest National Park overlooking the city. A symbol of Brazilian Christianity, the statue has become an icon for Rio de Janeiro and Brazil.It is made of reinforced concrete and soapstone, and was constructed between 1922 and 1931.
More information on www.waymarking.com. www.360cities.net and en.wikipedia.org.