International Volvo Photo Locations Part 40


View on the Golden Gate Bridge in San Francisco, USA. There are two Vista Points, North and South.
The South (San Francisco Side) Vista Point: Parking spaces are almost always full, spaces are metered and if you let the meter expire, you'll pay a fine ($30 in 2009). You'll find restrooms, a gift shop, cafe, and an exhibit showing the cross-section of a cable.
If you find this parking lot full or if you want to spend more time than the meters will allow, try these options:
Drive away from the metered lot and turn left out onto Lincoln. You will find a gravel lot a short distance away on your left. If you are approaching from the Presidio on Lincoln, the lot is just across from the two-story houses that were once the Presidio officer's quarters.
Weekends and holidays ONLY, you'll find more paid parking in a nearby satellite lot on the southwest side of the bridge. From there, walk toward the bridge and through the underpass to get to the vista point.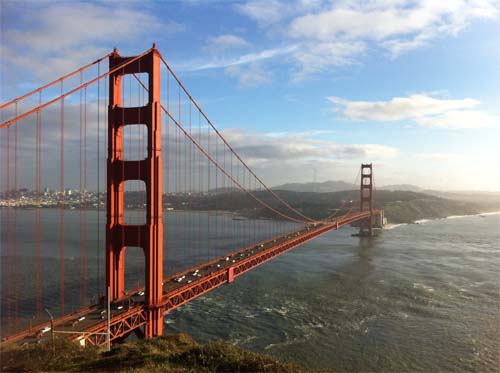 Walk onto the Golden Gate Bridge if you can. You can't really appreciate the size and height unless you've walked on it, at least a little way. At mid-span you stand 220 feet above the water's surface and passing ships below look like small toys. The distance from one vista point to another is 1.7 miles, a fun round trip if you're up to it, but even a short walk will be interesting.
Pedestrians are allowed only on the east (city side) sidewalk, during daylight hours. Dogs are allowed as long as they are on a leash at all times, but roller blades skates and skateboards are not.
Getting to the Golden Gate Bridge by Automobile: Follow the signs from anywhere in the city, taking Lombard Street (US Hwy 101) west. To reach the south vista point, take the exit marked "Last SF Exit," just before you get to the toll booths. You can avoid busy traffic by taking Lincoln Avenue through the Presidio.
More information on gocalifornia.about.com and goldengate.org.