Volvo Photo Locations Part 139


Röda Sten or Red Stone in english is a neighborhood in the district Sandarna in the port of Göteborg. It is located under the Älvsborgsbridge. The area has address "Röda Sten".
The area is laden with history and remains from the Stone Age and of the medieval fortress of Älvsborg can be found. During the 18th century the ships of the Eastindia company were loaded here, and in the 19th century Scottish entrepreneurs founded and planned a local community with its own church surrounding the Carnegie sugar refinery and porter brewery.
Röda Sten Konsthall is today an exciting place for interaction between people of all ages and from all parts of the world. The center is situated in a popular recreational area visited by both inhabitants of Gothenburg and tourists.
Today this is a place full of vibrant cultural activities such as artists' studios, dance studios and theatres and the Konstnärernas Kollektivverkstad (KKV). Other neighbours of Röda Sten konsthall are Hotel Novotel, restaurant Sjömagasinet and a marina for vintage boats. All this set on the medieval grounds of the old fortress of Älvsborg.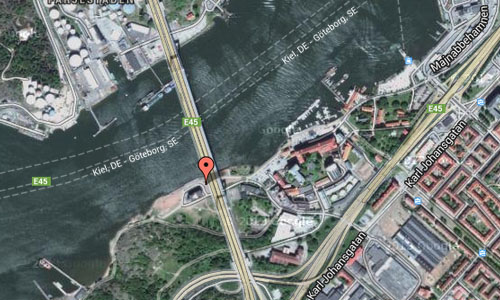 More information at www.rodasten.com and en.wikipedia.org.