International Volvo Photo Locations Part 148


Ålesund is a town and municipality in Møre og Romsdal county, Norway. It is part of the traditional district of Sunnmøre, and the center of the Ålesund Region. It is a sea port, and is noted for its unique concentration of Art Nouveau architecture.
Legend has it that Gangerolf (outside of Norway better known as Rollo), the 10th century founder of the dynasty of the dukes of Normandy, hailed from the community of Giske, north-west of Ålesund. At least three statues of Rolle exist: in the town park in Ålesund, in the city of Rouen, France, and in Fargo, North Dakota, United States.
In the night of 23 January 1904, the town was the scene of the Ålesund Fire, one of the most terrible of the many conflagrations to which Norwegian towns, once built largely of wood, have been subjected. Practically the entire town was destroyed during the night, a gale aiding the flames, and the population had to leave the town in the middle of the night with only a few minutes' notice. Only one person died in the fire, the 76-year-old Ane Heen, but more than 10,000 people were left without shelter.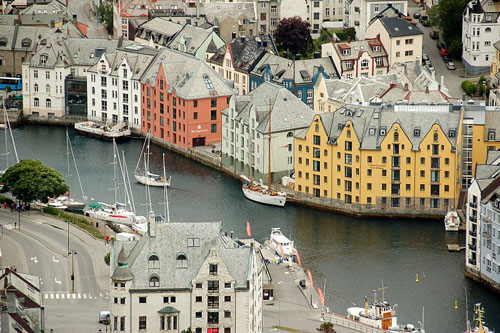 The town has an unusually consistent architecture, most of the buildings having been built between 1904 and 1907. Jugendstilsenteret is a national interpretation centre, visitors can learn more about the town fire, the rebuilding of the town and the Art Nouveau style. Ålesund is a partner in the Art nouveau network, a European network of co-operation created in 1999 for the study, safeguards and development of the Art nouveau.
The term "Little London" was often applied to the community during the occupation of Norway by Nazi Germany due to the Norwegian resistance work that took place here. Among other things, the city was central to the flights to Scotland and England.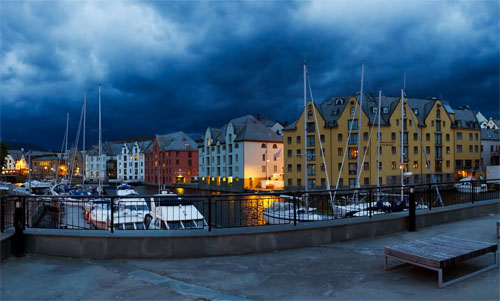 Ålesund has the most important fishing harbour in Norway. The town's fishing fleet is one of the most modern in Europe. Ålesund and surroundings also has a large furniture industry. Some well-known household items are manufactured here. In the 1950s and 1960s, Ålesund was one of the chief stations of the herring fishery business.
Ålesund is at the end of the E136 main route, which starts at Dombås where it connects with the E6 main route between Oslo and Trondheim.
It is also on the E39 coastal main route between Bergen and Trondheim. Note that this route does involve taking quite a few ferries in either direction which makes it take as long to Trondheim as the ferry-less E136/E6 combo but more expensive.
More information on en.wikipedia.org, en.wikivoyage.org and www.visitnorway.com.