Marcus Ericsson (born 2 September 1990) is an active Formula One driver, participating in Formula One in 2015 for Sauber F1 after his debute in 2014 for Caterham F1.
After a successful début in car racing in 2007 which saw him take the British Formula BMW title with Fortec Motorsport, he moved up into the British team's British Formula Three squad. After finishing as one of the top rookies in the category, Ericsson turned his attentions to the All-Japan Formula Three Championship where he won the championship in his debut year. In 2010, he moved up to the GP2 Series where he secured one victory during his maiden campaign for Super Nova Racing. Between 2011 and 2012, Ericsson drove for iSport. Ericsson completed the 2013 GP2 season with DAMS, and debuted in Formula One in 2014 with Caterham F1.
Ericsson drove for Brawn GP at the young driver test at Circuito de Jerez over three days, on 1–3 December 2009. He tested alongside IndyCar Series driver Mike Conway. Conway had the edge by three tenths of a second, however team principal Ross Brawn commended Ericsson for his performance, saying that he had "performed very well showing exceptional maturity in his approach and feedback".
It was announced on 21 November 2013 that Ericsson was a candidate to drive for the Caterham F1 Team in 2014 with Kamui Kobayashi as teammates. On 21 January 2014, the team announced that Ericsson and Kobayashi would be their race driver line up for the forthcoming season, with Robin Frijns as reserve.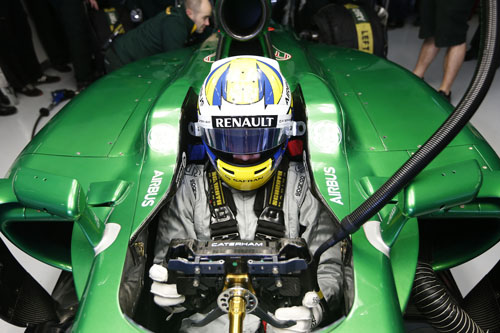 Ericsson qualified 20th in his debut race – the 2014 Australian Grand Prix and made a very good beginning to the race, running 11th before he fell back with oil pressure problems. In Malaysia, he qualified last, but improved in the race, finishing 14th in front of main rival Max Chilton. In Spain, he outqualified Kobayashi for the first time of his career, but he was behind both Marussia cars. He finished the race in 20th position, the last classified finisher. In the next race, the Monaco Grand Prix, he was involved in a collision with Williams driver Felipe Massa during qualifying, which resulted in Massa not advancing to the second part of the qualifying session. Ericsson was penalised with two penalty points and had to start from the pit lane. He drove a good race and took advantage of bad luck for other drivers to finish in 11th place, just missing out on his and Caterham's first points.
After this, Ericsson had some tough races in the slow Caterham, and it took until the Belgian Grand Prix where he could match the Marussias again, losing 16th place to Chilton on the very last lap. In Singapore, he did a good job saving his tyres and was able to keep both Marussias behind him to finish in 15th place and in Japan, he out-qualified both Marussias and Kobayashi for 19th position. He started 17th, but spun behind the safety car in heavy rain, and had to fight back from last place. He finished 17th after some really fast laps, in front of both Marussias and Kobayashi, but his great performance was overshadowed by the crash of Bianchi. At the inaugural Russian Grand Prix, he qualified in a career-best 17th position and this time, he was only 0.15 seconds from making it into Q2. During the race, he started 16th but fell back as expected, finishing 19th overall but in front of his main rivals – the other Caterham and the sole Marussia of Chilton, who eventually retired from the race.
Due to Caterham F1 falling into administration on 21 October 2014, neither team driver was able to compete at the United States Grand Prix. Despite this, Ericsson flew to Texas to commentate the race for Swedish television and, as it transpired, to secure a new drive for 2015. Ericsson terminated his contract with Caterham on 12 November. He eventually finished the season in 19th position, highest of the Caterham drivers that took part in 2014.
At the 2014 United States Grand Prix, Sauber announced that it had signed Ericsson for 2015, due in part to his substantial financial backing, but also for his strong last races of the 2014 season and the fact that he stayed cool despite 2014 being a frustrating season for him. In his first race with the team in Australia, Ericsson finished in eighth position, recording the first points-scoring finish by a Swedish driver since Stefan Johansson finished third at the 1989 Portuguese Grand Prix.
2015 Sauber Ferrari C34 – Marcus Ericsson
At the 2014 United States Grand Prix, Sauber announced that it had signed Ericsson for 2015. In his first race with the team in Australia, Ericsson finished in eighth position, recording the first points-scoring finish by a Swedish driver since Stefan Johansson finished third at the 1989 Portuguese Grand Prix.
Malaysia was the first time that Ericsson made it into Q3, qualifying 10th but was ultimately promoted to 9th. He spun on the fourth lap after an unsuccessful overtaking attempt on Force India's Nico Hülkenberg which resulted in retirement. In China, Ericsson again made it into Q3 in qualifying, again qualifying 10th. He finished the race in the same position, scoring one point after Max Verstappen's engine blew up with only a few laps remaining. In Bahrain he qualified outside the top 10, and held 8th position when a pit stop failure caused him to fall down the field, and he ultimately finished the race in 14th position. In the first European leg of the season he finished 14th in Spain and 13th in Monaco.
In the 2015 British Grand Prix he finished 11th – just outside the points. He scored one more point before the summer break, with a 10th-place finish in Hungary, followed by another 10th position in Belgium. At the Italian Grand Prix Ericsson qualified for Q3, where he ended up 10th, before he was given a grid penalty for blocking Hülkenberg in Q1. Ericsson eventually finished 9th – taking his fifth points position for the year and again being in front of teammate Felipe Nasr.
During the summer break Sauber announced that Ericsson along with Nasr had both extended their deals with the team for the 2016 season.
In 2016, Sauber missed pre-season testing due to financial concerns hurting their car development for 2016.
Ericsson was running in 15th before a power issue in Australia and he drove a good race to take twelfth in Bahrain in the next round. He ran just outside the points in China but steadily dropped to sixteenth, still four places ahead of Nasr.
In Russia he recovered from first lap contact to beat Nasr once again and take fourteenth. In Spain he was fantastic again as he was twelfth, but in Monaco he crashed into his teammate clumsily which ruined his next race in Canada as he started at the back due to a grid penalty. He went on a slump in the following races, with 17th in Baku and 15th in Austria, with qualifying crashes in Silverstone and Hungary forcing him to start from the pit lane. Another bad couple of races followed in Hockenheim and Spa, but after that he got back on track.
In Monza, he maximised the car finishing sixteenth whilst in Singapore he made Q2 and was close to scoring his first point until a strategic blunder from the team. He ran close to points in Malaysia and Suzuka, thrashing his teammate in qualifying and the race. In Austin, he ran eleventh for part of the race but ended up fourteenth and in Mexico he put in one of the drives of the season as he recovered from a first lap crash to eleventh, just outside the points. He crashed out of the race in Brazil but finished fifteenth in Abu Dhabi.
Ericsson's 2017 campaign did not start well as he had to retire due to a hydraulic issue in Australia. He qualified 14th and finished 15th in China. He struggled to match his teammate Wehrlein in Bahrain with his race ending in another disappointing retirement due to the gearbox. He finished 15th in Russia beating his teammate for the first time in the season. Ericsson got his best result of the season in 11th in Azerbaijan where he fought wildly for points in Azerbaijan with his teammate. Sauber started to struggle in Monaco with Ericsson crashing into the barrier while overtaking the safety car to get on the lead lap. He finished 13th in Canada and would fail to score points for the rest of the season.
Ericsson retained his seat at Sauber for 2018, alongside new teammate Charles Leclerc. At the Bahrain Grand Prix, Ericsson finished in ninth position, scoring his first points since the 2015 Italian Grand Prix, after a total of 49 races without scoring a point. He then scored further points at the Austrian, German, Belgian, USA and Mexican Grands Prix. At the Italian Grand Prix, Ericsson had a high speed accident in second practice at Turn 1, with a DRS issue causing the car to lose control and slam the wall where the runoff is. Ericsson hit the wall heavily, and flipped 3 times before coming to rest on all wheels but was uninjured.
Just before the 2018 Russian Grand Prix it was announced that he was to be replaced at Sauber by Antonio Giovinazzi, but would remain with the team as their third driver and brand ambassador.
In September, Ericsson was requested to be stand-in for an injured Kimi Räikkönen at the Belgian Grand Prix; Räikkönen would ultimately run the race.
More information at marcusericsson.com and www.sauberf1team.com
All Swedish Formula One drivers:
Jo Bonnier (1956 – 1971)
Ronnie Peterson (1970 – 1978)
Reine Wisell (1970 – 1974)
Bertil Roos (1974)
Torsten Palm (1975)
Gunnar Nilsson (1976 – 1977)
Conny Andersson (1976 – 1977)
Slim Borgudd (1981 – 1982)
Stefan Johansson (1980 – 1991)
Marcus Ericsson (2014 – 2018)