Volvo Photo Locations Part 142


Lindstedtsvägen in Stockholm is a street at the Kungliga Tekniska högskolan (KTH) campus in Stockholm.
The Volvo in the photo is the famous 'Nordbergscabben', a one off convertible on a 445-chassis built by Gustaf Nordbergs Vagnfabrik in Stockholm. The convertible was built on one of the first 500 445-chassis according to the dashboard. The dashboard is the same found in the PV 444 A with the speedometer in the middle. The colouring though was not the green/yellow. Instead it got the grey one also found in the PV 444 S introduced in 1950. The hood got a higher profile than the original hood. The convertible has probarly gone to the scrapyard, but nobody knows for sure. As long as it isn't verified you can hope that it is put to rest in some barn somewhere. (Source: )
The Kungliga Tekniska högskolan, abbreviated KTH (or Royal Institute of Technology in English) is a university in Stockholm, Sweden. KTH was founded in 1827 as Sweden's first polytechnic and is one of Scandinavia's largest (the largest by certain definitions) institutions of higher education in technology.
KTH accounts for one-third of Sweden's technical research and engineering education capacity at university level. KTH offers programmes leading to a Master of Architecture, Master of Science in Engineering, Bachelor of Science in Engineering, Bachelor of Science, Master of Science, licentiate or doctoral degree.
There are a total of just over 14 000 full-year equivalent undergraduate students, more than 1700 active postgraduate students and 4600 full-time-equivalent employees. KTH is one of the leading technical universities in Europe and highly respected worldwide, especially in the domains of technology and natural sciences.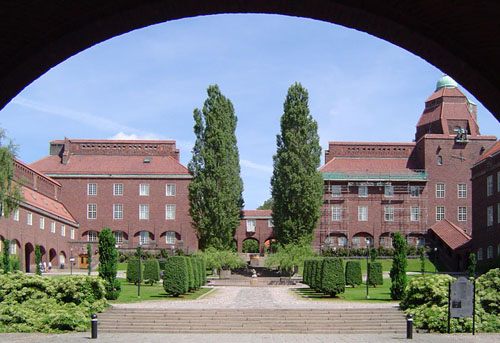 The main campus buildings at Valhallavägen in Östermalm, by architect Erik Lallerstedt, were completed in 1917. The buildings and surroundings were decorated by prominent early 20th-century Swedish artists such as Carl Milles, Axel Törneman, Georg Pauli, Tore Strindberg and Ivar Johnsson. The older buildings on the campus went through a complete renovation in 1994. While the original campus was large for its time, KTH very soon outgrew it and the campus was expanded with new buildings. Today KTH institutions and faculties are distributed across several campuses in Stockholm County, located in Flemingsberg, Haninge, Kista and Södertälje in addition to the ones in Östermalm.
Cerberus outside the entrance to the Royal Institute of Technology in Stockholm.
Cerberus or Kerberos, in Greek and Roman mythology, is a bronze multi-headed (usually three-headed) dog, or "hellhound" with a serpent's tail, a mane of snakes, and a lion's claws. It guards the entrance of Hades to prevent those who entered from ever escaping.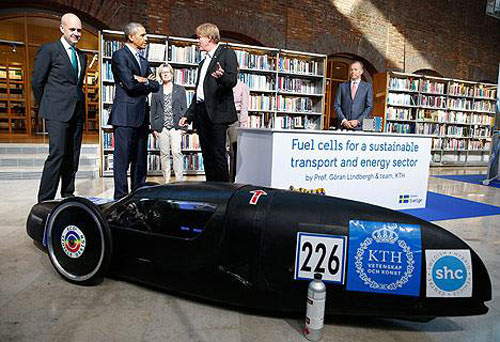 U.S. President Barack Obama and Prime Minister Fredrik Reinfeldt speaks with Professor Göran Lindberg on fuel cell technology during his visit to KTH in September 2013. Concept car Sleipner is capable of running 1500 km on one liter of petrol.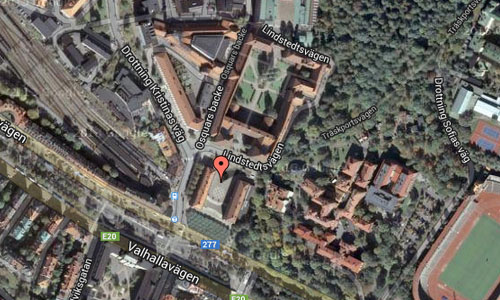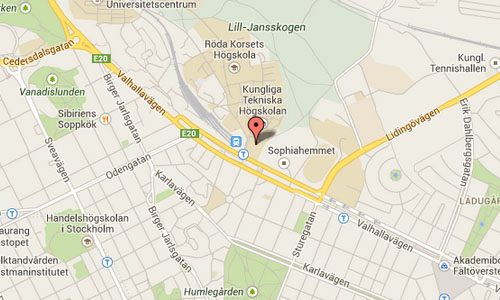 More information at www.kth.se and www.pvchassi.com.