Volvo Photo Locations Part 147


Artipelag is an art hall outside Stockholm in Sweden. The art hall opened in June 2012. The building and the surrounding landscape was designed by the late architect Johan Nyrén. The building covers an area of approximately 10.000 square meters and includes 3.000 square meters of art galleries and has 22 acres of surrounding natural scenery.
Artipelag is an international meeting point for art, good food, events and activities – beautifully situated in the Stockholm archipelago, on Artipelagstigen 1, only 30 minutes from the city.
The name Artipelag is a combination of Art, Activities, and Archipelago.
The art hall is founded on a donation by Björn Jakobson, founder and owner of the baby product company Babybjörn.
Notable exhibitions have included works by William Wegman and Candida Höfer. The artistic director of Artipelag is Bo Nilsson.
In August 2014, Volvo Cars had their 2015 Volvo XC90 launch here.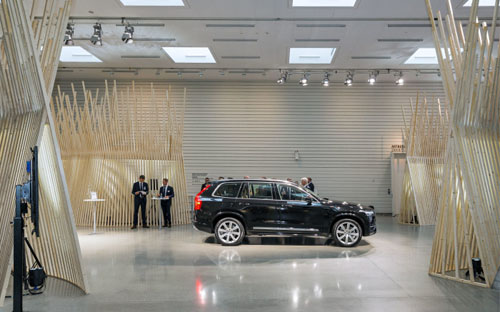 The building is comparable in size to Sweden's largest state-owned museums and art exhibition institutions. Despite this, architect Johan Nyrén has managed to design a building in harmony with the natural surroundings, dressed in bevelled pitched-pine planks, and carefully located between the pine trees and the cliffs with a view over Baggen's Bay. One of the fundamental ideas was that as soon as a visitor came into the entrance hall, he or she would be met by the four elements: fire crackling in the fireplace; earth and the rock on which the building rests; the clear air and the sparkling water that surrounds and frames the site.
Artipelag has much to offer for those who are interested in nature and architecture: the walkway leading up to the Sedum-plant-covered roof, the huge rock in the restaurant, and the beautiful sloping walls of the smaller art rooms. Many believe that Johan Nyrén, with his last work, will make international architectural history.
How to get to the Artipelag by car:
Coming from the west, from Stockholm: to go by car from central Stockholm takes about 20 minutes. Drive route 222 towards Gustavsberg and follow the signs. After the exit at Trafikplats Hålludden, the road becoms more narrow – please observe the speed limit 30 km per hour.
Or coming from the east from Värmdö, drive road 222, turn off towards Värmdö Market and keep to the right on Ingarövägen road. At the roundabout by COOP, turn left and follow the signs. Arriving from Gustavsberg turn right in the roundabout by COOP and follow the signs.
More information at en.wikipedia.org and www.artipelag.se.