Volvo Photo Locations Part 161


Olof Wijksgatan is a street in Lorensbergs residential area in Göteborg, close to Lyckans väg. The villas and a terraced houses are almost all built between 1913 and 1925. All but three buildings have stone with brick facades, and all contained large dwellings to 400 square meters. They are built mainly in the National Romantic style but also 1920s classicism occurred. The villas are built with 2 to 3 floors and almost all have facades of red or maroon brick.
The villa pictured above is on the adress Lyckans väg 4 and is called 'Carlanderska villan' designed by architects Arvid Bjerke & R. O. Swensson in 1913. Architect Arvid Bjerke is known from Göteborgs Konstmuseum 1919-1925 and Göteborgs Konsthall 1923 at Götaplatsen.
The villa was the private residence to SKF's founder Axel Carlander. The family Carlander entered in 1914 the Carlanderska villa at Lyckans väg 4 in Lorensbergs residential area, designed by Arvid Bjerke.
Axel Carlander was also a member of the Board of Volvo AB between 1917 and 1926.
The villa had a gate in the garden during the Jubilee Exhibition in Göteborg in 1923, and was used to lead directly into the exhibition area, which was convenient both for family Carlander and for their royal guests who stayed with them. The villa was extended in 1930 and after Carlander wife passed away in 1961, the Hypoteksföreningen moved in.
Today, the building houses several appartments, and the street Lyckans väg is known at the most expensive street in Göteborg.
Olof Wijksgatan in the district Lorensbergsvägen in Göteborg is named after Olof Wijk the Youngest,
Olof Wijk Jr., born July 21, 1833 in Göteborg, died September 17, 1901, businessman, donor (Olof and Caroline Wijk's Fund) and politicians (moderate-liberal); Member of Parliament (Lower House) 1867-1890, President 1880-1890. On 24 October 1890, he was the second last person that was knighted in Sweden and was introduced in the House of Nobility in 1891 with no. 2342.
His family originated from Wiken Mellangården, Björlanda parish in Hisingen. His noble branch of the family became extinct with his son Hjalmar in 1965.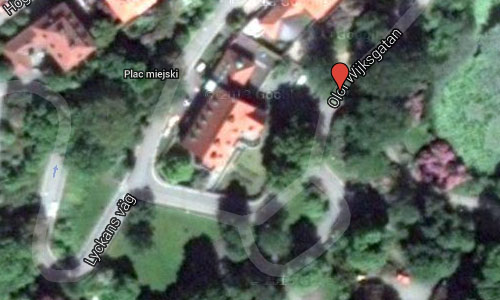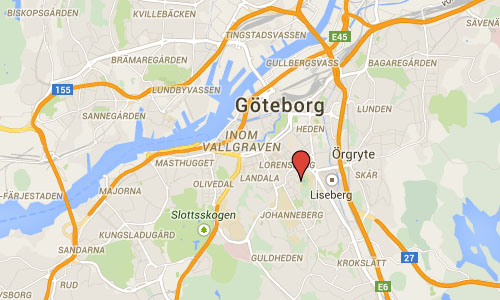 More information at Lorensberg and sv.wikipedia.org