International Volvo Photo Locations Part 197


La Cienega Boulevard is a major north–south arterial road that runs between El Segundo Boulevard in Hawthorne, California on the south and the Sunset Strip/Sunset Boulevard in West Hollywood.
From south of Fairview and from north of Rodeo Road (not Drive), La Cienega Boulevard is a regular surface street and one of Hollywood's major thoroughfares. Offices for A&E Network, The History Channel and the Academy of Motion Picture Arts and Sciences are located on La Cienega as are the studios of Citadel Broadcasting flagships KABC and KLOS, two of Los Angeles' biggest radio stations. A portion of La Cienega in and adjacent to Beverly Hills is known as "Restaurant Row" for its large number of upscale restaurants. South of Olympic, La Cienega runs through the Pico-Robertson and Crestview neighborhoods in West Los Angeles into Culver City and is known for its large number of automotive-related business including several used car dealerships and many body shops and auto mechanics.
La Cienega in Beverly Hills, north of Wilshire Boulevard, is known as Restaurant Row because it features many upscale restaurants. From Wilshire in Beverly Hills traveling north the best known establishments include Benihana, The Stinking Rose, Darioush, the original Lawry's the Prime Rib, Hakobe, Tokyo Table – Tokyo City Cuisine, Matsuhisa, Fogo de Chão, Gyu-Kaku, Woo Lae Oak, The Bazaar by José Andrés, and Morton's.
La Cienega Boulevard is named after Rancho Las Cienegas Mexican land grant roughly in the region now called "West Los Angeles." The Spanish phrase la ciénaga translates into English as "the swamp" and the area named "Las Ciénegas" was a continual marshland due to the course of the Los Angeles River through that area prior to a massive southerly shift in 1825 to roughly its present course. The difference in spelling between the Spanish word ciénaga and the name of the thoroughfare originated with the name of the rancho.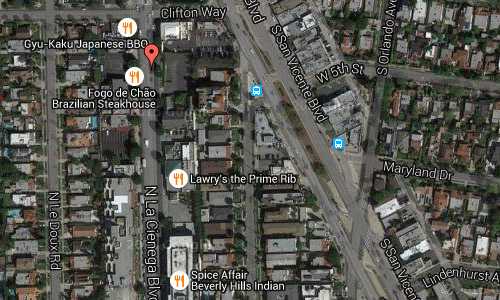 More information at en.wikipedia.org.