Volvo Photo Locations Part 214


Strandgatan is a street in the old centre of Visby, the main city on the island Gotland in Sweden.
The building in the photo is Hotellet 13 on Strandgatan 6 and connects the old Clarion Hotel Wisby part with the former Länsstyrelsens building. Owner is Clarion Hotel Wisby.
In 2014, this building received the Byggnadsvårdspriset from Sällskapet DBW.
Visby is a locality and the seat of Gotland Municipality in Gotland County, on the island of Gotland, Sweden with 23,880 inhabitants, as of 2014. Visby is also the episcopal see for the Diocese of Visby. The Hanseatic city of Visby is arguably the best-preserved medieval city in Scandinavia and since 1995, it is on the UNESCO World Heritage Site list. Among the most notable historical remains are the 3.4 km long town wall that encircles the town center, and a number of church ruins.
Visby is a popular vacation destination for Scandinavians during the summer and receives thousands of tourists every year. It is by far the most populated locality outside the Swedish mainland. The University of Gotland is in Visby, and since 1 July 2013, it is a department of Uppsala University under the name Uppsala university–Campus Gotland.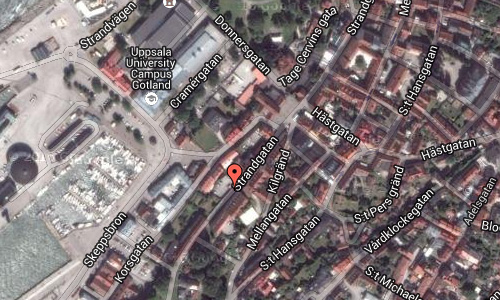 More information at sv.wikipedia.org, www.dbw1814.se, www.visbyark.se and www.gotland.net.