Volvo Photo Locations Part 220



Stora Bryggeriet or Octapharma AB offices is located on Lars Forssells gatan on Kungsholmen in Stockholm, Sweden.
Stora Bryggeriet is an industrial building on Kungsholmen's western shore next to Ulvsundasjön in Stockholm's inner city within Hornsberg. Stora Brewery was originally built as a beer brewery and, after the brewery period, contained many different activities, including Kabi Vitrum and Pharmacia. Nowadays, the pharma group Octapharma has its Swedish production facility in the building. Stora Brewery's remaining buildings are blue-labeled by the Stockholm City Museum, which means "that the buildings are considered to have extremely high cultural-historical values".
AB Stora Bryggeriet was established in 1890 to compete with AB Stockholm Breweries, including Münchenbryggeriet and Hamburger brewery. Stakeholders in AB Stora Bryggeriet were some major bakeries and Stockholms Enskilda Bank. The company wanted a model site and the order went to the German firm Maschinenfabrik Germania in Chemnitz, who made the installation of the machinery. Iron constructions were made by Ludwigsbergs verkstad, probably with German drawings. The German firm also designed the original façade in a neo-Renaissance style but these were rejected and the new order went to Stockholm architect Gustaf Lindgren. He reworked the drawings and gave the building the design as it has today.
In 2013-2014 an extensive refurbishment of the brewery's old machine shop was conducted which was very dilapidated. The premises were adapted into offices of pharmaceutical companies Octapharma by architects Joliark. Eye-catching was the large glazed gable against Lars Forsell street. The project was nominated for the Årets Stockholmsbyggnad 2015 which imposed a place three.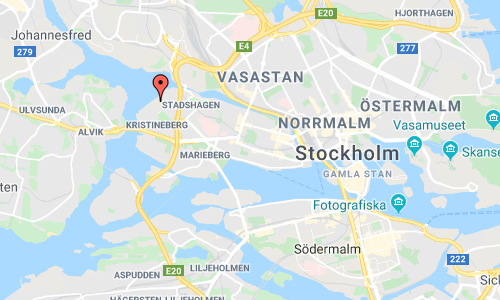 More information at joliark.se, sv.wikipedia.org, www.designboom.com and www.svd.se.