International Volvo Photo Locations Part 210


The Archäopark Vogelherd can be found at Am Vogelherd 1 in Niederstotzingen – Stetten in Germany. It is located between Stuttgart and Mûnchen. Youll get there by car, take Autobahn A 7, Ulm-Würzburg, Exit Niederstotzingen or by local trains from Ulm Main Station, direction Heidenheim and get off at Niederstotzingen or take the local buses, bus line No. 59 and 7203.
This park is the only one of its kind in Germany, a place to have a hands-on experience of the Paleolithic era. There are recreations of stone age dwellings, walking paths with facts about life in the Paleolithic, and the usual spear-throwing and fire-making activities. The small visitor's center has a gift shop, snack bar, and two carved figures found at the site: a cave lion and an exquisite mammoth.
You can also walk through Vogelherd Cave, a place of Neanderthal and Modern Human habitation for over 100,000 years. You can see the other figures that were excavated in this cave at the Museum Schloss Hohentübingen in Tübingen.
Closed on Mondays and also closed from January 7 to February 7. The visitors center and the lower portion of the outdoor area are wheelchair and stroller accessible.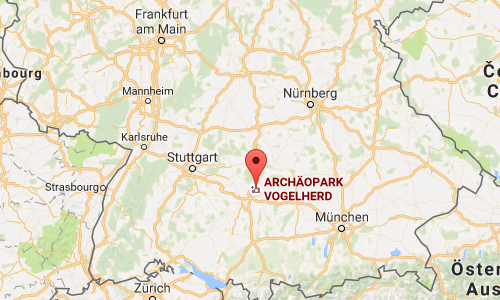 More information at www.baunetzwissen.de, de.wikipedia.org and www.archaeopark-vogelherd.de.