International Volvo Photo Locations Part 216


Mildred Ave is a street in the Venice area in Los Angeles, California, USA.
Venice is a residential, commercial and recreational beachfront neighborhood on the Westside of the city of Los Angeles.
Shown houses a modern architectural homes located in the desirable Silver Triangle. Enter into a vast open living room with fireplace and floor-to-ceiling windows. Three bedrooms upstairs including an opulent master with a balcony and fireplace. Downstairs den could be ideal for a studio or office. The property features hardwood floors and high ceilings throughout, an abundance of natural light, a side yard for barbecuing, and direct access two car covered garage. Close to the beach, Venice Canals, and ample restaurants and shops on Abbot Kinney. Style is Single Family Detached and Year Built: 1981.
The neighborhood surrounding this modern-organic, three-story home at Mildred Avenue was originally named "Venice of America" by its founder, Abbot Kinney, for its Venetian-inspired canals. The beach side area later became the go-to locale for Southern California Beat Generation artists and poets and the birthplace of The Doors. To say that the Venice Beach community is an inspiring place to call home is somewhat of an understatement. It's also why this newly remodeled condominium fits right in.
These three bedroom, three-and-a-half bath homes were a dream project for the design team of local-area talents.
With the eclectic collection of high-end boutiques, art galleries, restaurants and bars a short walk away at the popular Abbot Kinney, new homeowners can easily partake in the city's long-established artistic, hip culture.
Located just north of Washington Boulevard and east of the Venice Canals is a quiet residential neighborhood referred to as the Silver Triangle.
The Silver Triangle is predominately owner-occupied single family homes. There is one 70-unit condominium project. Built in the early 80's, del Rey Colony, a self-contained town home complex surrounding a man-made lake, offers a contemporary, secure life style.
Venice was founded in 1905 as a seaside resort town. It was an independent city until 1926, when it merged with Los Angeles. Today, Venice is known for its canals, beaches, and the circus-like Ocean Front Walk, a two-and-a-half-mile pedestrian-only promenade that features performers, mystics, artists and vendors.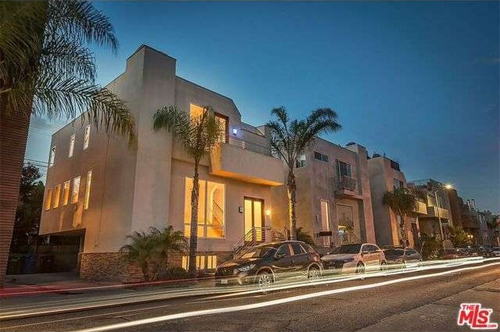 Many of Venice's houses have their principal entries from pedestrian-only streets and have house numbers on these footpaths. (Automobile access is by alleys in the rear.) The inland walk streets are made up primarily of around 620 single-family homes.[29] Like much of the rest of Los Angeles, however, Venice is known for traffic congestion. It lies 2 miles (3.2 km) away from the nearest freeway, and its unusually dense network of narrow streets was not planned for modern traffic. Mindful of the tourist nature of much of the district's vehicle traffic, its residents have successfully fought numerous attempts to extend the Marina Freeway (SR 90) into southern Venice.
More information at en.wikipedia.orgdwellingz.com and www.venicebeachliving.com.