International Volvo Photo Locations Part 228


Montauk is a census-designated place (CDP) that roughly corresponds to the hamlet with the same name located in the town of East Hampton in Suffolk County, New York, on the eastern end of the South Shore of Long Island. As of the 2010 United States Census, the CDP population was 3,326.
Located at the tip of the South Fork peninsula of Long Island, 118 miles (189 km) east of Midtown Manhattan, Montauk has been used as an Army, Navy, Coast Guard and Air Force base. The Montauk Point Light was the first lighthouse in New York state and is the fourth oldest active lighthouse in the United States.
Montauk is a major tourist destination and has six state parks. It is particularly famous for its fishing, claiming to have more world saltwater fishing records than any other port in the world.[2] Located 20 miles (32 km) off the Connecticut coast, it is home to the largest commercial and recreational fishing fleet in New York state.
Montauk is considered a beach resort, using its position at the tip of Long Island to promote itself as "The Living End" or "The Last Resort" and become one of the busiest tourist locations within the town of East Hampton. The small town is host to many restaurants, bed and breakfasts, and hotels, and is a popular vacation spot in the warm weather months. Such accommodations are rarer elsewhere in the Hamptons. Many of the Montauk hotels are only open April through November, some for shorter time periods, while a few serve fishermen and other customers year round, including the famed Gurney's Inn.
Among the kown persons that have lived in Montauk are Bernard Madoff (investment banker, fraudster, convicted felon, world's largest Ponzi scheme operator), Toots Thielemans (jazz musician), Rufus Wainwright (singer-songwriter) and Andy Warhol (artist and entrepreneur) who bought the Church Estate in Montauk − also known as Eothen − in 1972.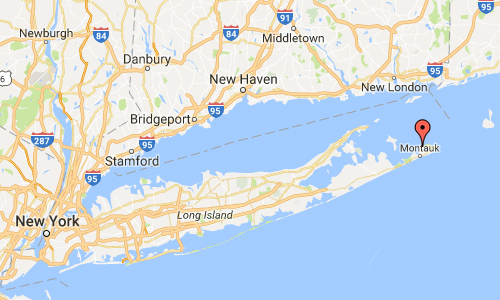 More information at en.wikipedia.org, www.onmontauk.com and www.montauk-online.com.