International Volvo Photo Locations Part 245



Underhill Residence, located in the Matinecock NY, is an amazing house complex designed by Bates Masi Architects.
With an atrium patio and many open terrace areas integrating with the indoors this house offers a versatile approach for the architecture and interior design. The interesting "orient inspired" roof shapes and plank like cladding gives the architecture its unique finish while warm and timeless wood takes over in the ceiling, flooring and furniture. Large windows open up the view around the house environment thought thanks to the house shape you still can enjoy a private atmosphere.
A great overall where each room and space has their own functions and characteristics.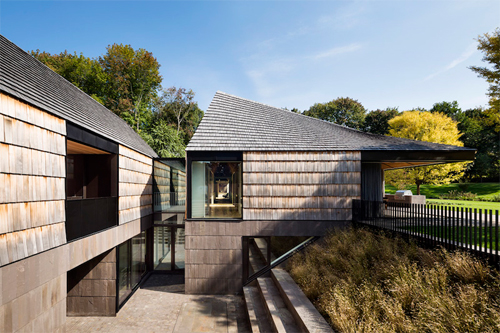 Socially and professionally a couple desired to live in an urban environment. However, living in the city didn't afford the lifestyle they wanted for their children as they approached school age. To compromise between remaining close to the city while raising their family, they relocated to the suburbs. Their goal was to create a strong sense of place in an environment with close neighbors on all sides of their property. The history of the community they chose, an early Quaker settlement, inspired the solution. Based on the Quaker tenants of simplicity, humility, and inner focus, the house is broken into a series of modest gabled structures, each one focused inward on its own garden courtyard instead of out to the surrounding neighbors.
Locust Valley is a hamlet and census-designated place (CDP) located in Nassau County, New York. Locust Valley is an unincorporated area of the Town of Oyster Bay. As of the United States 2010 Census, the CDP population was 3,406. The area is commonly identified with its W.A.S.P and "White Shoe" culture surrounding a group of polo and golf clubs, primarily the secretive Piping Rock Club, as well as the equally prestigious Creek Club, in the neighboring incorporated villages of Matinecock and Lattingtown, respectively. The town is also known for Locust Valley lockjaw.
Figures ranging from the Duke of Windsor to John Lennon to Franklin D. Roosevelt have spent considerable time in Locust Valley.
Great photography for Volvo Cars USA by Marlyne & Patrick Curtet!
More information at en.wikipedia.org, batesmasi.com and www.hallofhomes.com.