International Volvo Photo Locations Part 259


Tolbodgade is a street in Copenhagen, Denmark.
Toldbodgade (lit. "Custom House Street") is a street in central Copenhagen, Denmark. It extends north from Nyhavn at the Nyhavn Bridge, continuing Holberggade, passes Sankt Annæ Plads after just one block, and continues straight until it reaches West India Warehouse where it makes a sharp left turn which connects it to Amaliegade, its parallel street, at the rear of the Design Museum.
The east side of the street is lined by a series of 18th century warehouses whose other sides face the Larsens Plads waterfront, which was a major hub for emigration to America.
Toldbodgade is centrally located between some of Copenhagen's most popular visitor attractions, including Nyhavn to the south, Amalienborg Palace and the design museum to the west and the Citadel and Langelinie with the The Little Mermaid, although most pedestrians opt for the waterfront promenade along Larsens Plads.
The old warehouses have been converted for other uses. The West India Warehouses now house the Royal Cast Collection, part of the National Gallery, as well as an exhibition of costumes from the Royal Danish Theatre, while the Double Warehouse has become the Copenhagen Admiral Hotel.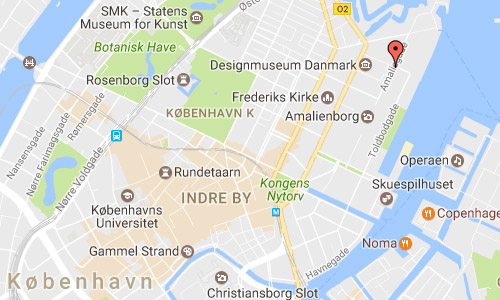 More information at en.wikipedia.org and www.visitcopenhagen.com.