International Volvo Photo Locations Part 303


West 4th Street and South Flower Street are streets in Downtown Los Angeles.
The building on the left side of South Flower Street is a car parking, owned by City National Plaza. The address is 400 South Flower Parking.
The building on the right is the Westin Bonaventure Hotel and Suites, a 112 m, 35-story hotel in Los Angeles, California, constructed between 1974 and 1976. Designed by architect John C. Portman, Jr., it is the largest hotel in LA. The top floor has a revolving restaurant and bar.
Although the top floor is numbered "35", there are no floors numbered "7" or "13"; so technically this is only a 33-story building. The four elevator banks (each containing three cars for a total of 12) are named by colors and symbols: Red Circle (the only one that goes to "35"; the other three only go to "32"), Yellow Diamond, Green Square, and Blue Triangle. The color-coded system of directions was a later addition, as visitors found the space confusing and hard to navigate.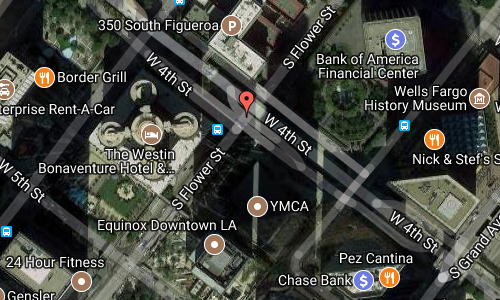 More information at en.wikipedia.org and www.flowerstreetlofts.com.