Volvo Photo Locations Part 283



NOTE: The Lodge was not yet built when Google Streetview visited this place!
The Volvo Get Away Lodge (a pop-up hotel collaboration between Tablet and Volvo) was located on Vålådalsvägen 130 in Undersåker near Åre in the north of Sweden. This house was only available for stays during March 2017. The Lodge is not currently operational.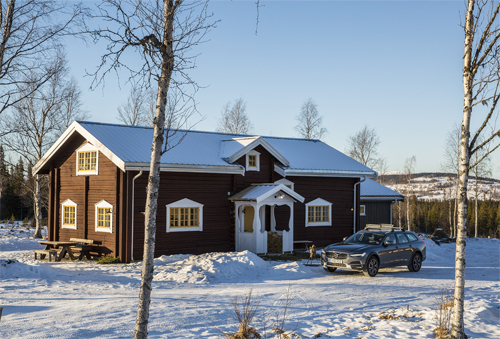 Tucked away in the tranquil mountains of Sweden, but in close proximity to the buzzing winter-sports village of Åre, the Get Away Lodge offers a superb way to manage your work/life balance. This traditional-looking mountain lodge has been newly renovated and its luxurious and cozy interiors are designed with a Zen-like mindfulness. In other words: this is the perfect spot for a few days' escape from the city bustle, where you can experience the serenity of this unique lodge, surrounded by mountains, woods, and rivers. And you'll have unparalleled access to this landscape thanks to your hosts — Volvo, the Swedish automaker, in an exclusive partnership with Tablet.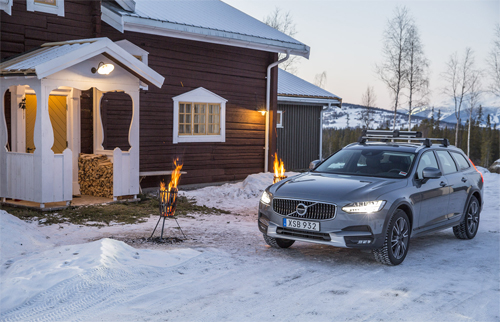 A stay at the Lodge includes access to Volvo's newly launched all-weather V90 Cross Country wagon for the duration of your stay. The car comes with all-wheel drive, extended ground clearance, and state-of-the-art driver assist and safety systems — perfect for exploring the magnificent surroundings and the rough terrain, or to simply dropping in on chef Magnus Nilsson's nearby two-Michelin-star restaurant, Fäviken Magasinet. (The car can either be picked up at Åre-Östersund Airport or be delivered directly to the lodge.)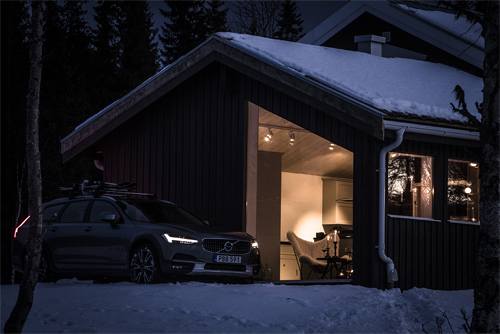 Once you're in the lodge, you'll be presented with plenty of opportunities for a mindful experience, including a yoga and contemplation room, fully equipped with yoga mats, incense burners, candles and relaxing views of the surroundings. The lodge also contains a lounge with a large fireplace, exclusive furniture by Röshults, and a selection of books by Zen philosopher Alan Watts, a bedroom equipped with a super-luxurious bed with adjustable firmness by YouBed, a study room, two large bathrooms, a dining room and a fully equipped kitchen with a fireplace, a wireless Bower & Wilkins high performance audio system, and a breathtaking view over Åreskutan, the mountain that dominates the local landscape. Complimentary snacks include local, biodynamically produced charcuterie by Undersåker Charkuteri, a subsidiary of the famous Fäviken Magasinet Restaurant, as well as non-alcoholic beers. The outside patio is fully furnished and has a Röshult outdoor kitchen.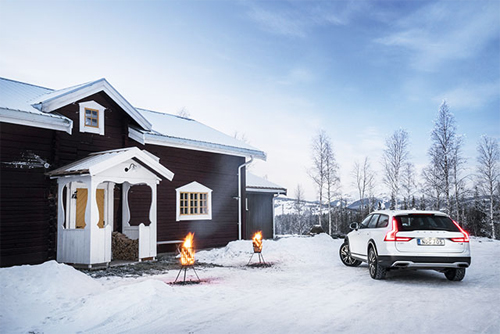 There's also a large equipment room that offers the residents all kinds of seasonal winter sports gear that might be needed during the stay, such as skis, warm winter clothes, and snowshoes. Residents can look forward to indulging themselves in all the outdoor activities that the Swedish mountains have to offer, from hiking and fishing to downhill or cross-country skiing, as well as dogsled rides or snowmobile excursions. A handy 24/7 hotline/concierge service helps to cater to your every need and will be of assistance in making dinner reservations at local restaurants, arranging trips, and making sure to ignite the torches outside the lodge when darkness falls upon the hillsides.
More information at www.tablethotels.com and www.media.volvocars.com.