Volvo Photo Locations Part 309



Villa W is located on Styrbordsgatan in Långedrag in Västra Frölunda, Göteborg.
Architect of the amazing house was Gert Wingårdh.
This house was on the top 3 list of the most expensieve houses of the Swedish west coast according to the Expressen newspaper.
Långedrag is located in the Västra Frölunda parish and was part of the municipality form 1862 in Västra Frölunda county municipality. This was established on August 19, 1910, by the municipality of Långedrag, which was 1 January 1922 in Älvsborg municipality community. This, in turn, was dissolved January 1, 1945, when the municipal council was in Göteborg.
The name Långedrag is found for the first time in 1766, and then referred to as a saltery and fishing village. The meaning of the name is considered to be the "long-winded sailing joint outside Västerberget" (Långe-) and "open water where the wind is on" (traits).
The great sill rush at the end of the 18th century contributed to the development of Långedrag and that a road was built to Göteborg. The road became an important part of the city especially during difficult winters when the fjord and the river were closed by ice.
In the mid 1800's, the steamboat Delphin started regular day trips with bathers to Långedrag. Cold bath house with separate departments for gentlemen and ladies and a restaurant was built. Plots began to be erected for summer residents and quite soon also for year-round residents.
In 1911, the newly formed Göteborg canoe association was given an area at Ängholmen.
Göteborgs Kungliga Segelsällskap is located in the area. Göteborgs Spårvagn traverses the area with the long-lane line. The area has been named for the so-called long-dragons – real and seaworthy small school-rule boats in a number of sizes.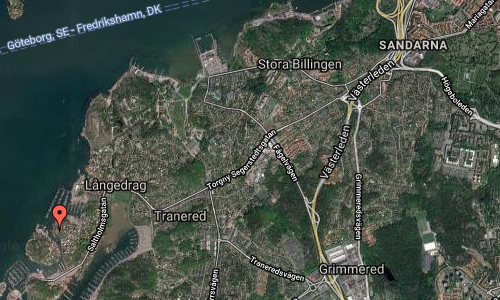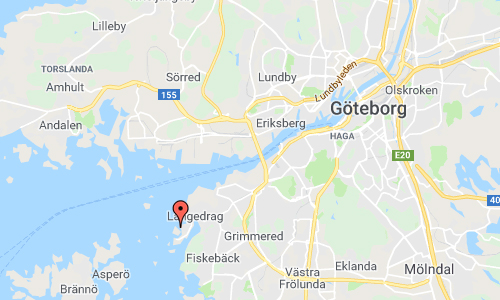 More information at robusta.se and sv.wikipedia.org.