International Volvo Photo Locations Part 360



Turborg harbor is located in Hellerup north of Copenhagen. The harbor used to serve the Danish Tuborg Breweries, and this collaboration has given name to the harbor.
The harbor's history is beer brewing is still seen today, as two large beer bottles flank the sides of the harbor. Take a stroll along the harborside to see the landmark for yourself.
The harbor is owned by the Carlsberg brewery and administrated by Royal Danish Yacht Club.
Tuborg is a Danish brewing company founded in 1873 on a harbour in Hellerup, an area North of Copenhagen, Denmark. Since 1970 it has been part of the Carlsberg Group. The brewery's flagship, Tuborg, pilsner was brewed for the first time in 1880.
The name Tuborg comes from Thuesborg ("Thue's castle"), a Copenhagen inn from the 1690s situated in the area of the brewery. This evolved and was adopted into local place names, such as Lille Tuborg and Store Tuborg. "Tuborgvej" street in Copenhagen is named after the site of the original Tuborg brewery.
Tuborg initially produced pale lager for the Danish market. It merged with United Breweries in 1894, which then entered into a profit-sharing agreement with Carlsberg in 1903. In 1970, United Breweries was acquired by Carlsberg.
Today, it makes lager for global export, as well as a variety of continental styles for both domestic and foreign markets.
In 1996 the last Tuborg beer was brewed in Hellerup and the area is now providing fashionable apartments, houses and business offices.
Hellerup is a district of Gentofte Municipality in the suburbs of Copenhagen, Denmark. The most urban part of the district is centred on Strandvejen and is bordered by Østerbro to the south and the Øresund to the east. It comprises Tuborg Havn, the redeveloped brewery site of Tuborg Breweries, with the Waterfront Shopping Center, a marina and the headquarters of several large companies. Other parts of the district consist of single family detached homes. Local landmarks include the science centre Experimentarium and the art Øregaard Museum.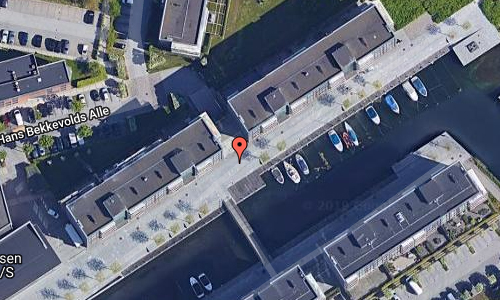 More information at visitcopenhagen.com and en.wikipedia.org.
Thanks to Johan Ekström for finding this place!