Volvo Photo Locations Part 373



Wijks Villa is located on Lyckans väg 2 in Göteborg, Sweden.
The house on Lyckans väg 2 in Lorensbergs villastad was built in 1913 for Bertil Wijk and designed by Arvid Bjerke together with Ragnar Ossian Swensson. The house was extended in 1932 and 1985 and completely renovated in 1998.
Wijksk villa on Lyckans väg was built in 1913 in its time-typical national romantic style and is one of the oldest villa in Lorensberg's villa town. The red brick façade rises majestically above the thick walls of natural stone that frame the plot in the hilly terrain to the south and is reminiscent of a bygone era.
The house was for a long time a residential building for SKF's directors and during that time was owned by SKF. Later the Court of Appeal and the University of Gothenburg was housed here. Since 1996, the house is owned by Marinvest (owned by the Mossberg family) and since 2007, one part (2A) has been rented out for high school operations. Hermods gymnasium was located here, today in 2021 the school works under the Drottning Blankas Gymnasieskola name. The other part of the house (2B) the company SKIN which runs a skin clinic.
Marinvest is headquartered in another property in Lorensberg's residential town, Villa Olsson on Viktor Rydbergsgatan 10.
Bertil Wijk was born in 1868 at Domö Frälsesäteri, Järpås and died in 1949 in Göteborg. Son of Ivars Wijk and Hedvig Sofia Norström.
He was CEO of Olof Wijk & Co AB and owner of Domö manor in Västergötland. Bertil was one of the founders of the Röhsska Handicraft Museum's Friends Association in 1917. He also built the house on Lyckans väg 2 A in Lorensbergs villastad in Gothenburg as a private home. The house was for a long time a residential building for SKF's directors.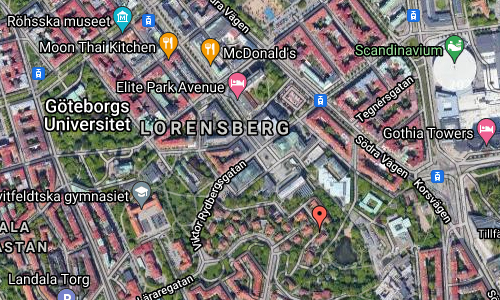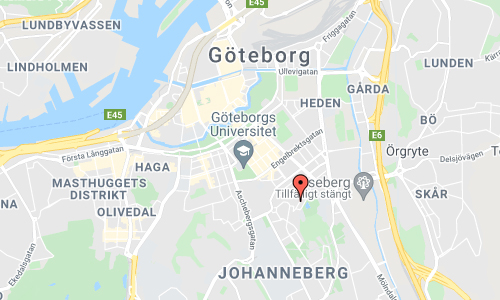 More information at gamlagoteborg.se .