Volvo Photo Locations Part 384



Billdal is a community southwest of Göteborg, located in the district Askim. Billdal is located by county road 158 and consists of areas such as Snipen, Lindås, Uggledal, Årekärr , Svindal and Skintebo.
The name Billdal already appears in 1540 in the form Beeldal, and further Behldal 1679, Billedahl 1825 with the meaning "river that flows with effort and trouble" or "the whimsical river, the river that sometimes flows slowly, sometimes fast". The reference is then to the stream that has flowed into the valley.
Billdal's buildings are predominantly villas in an area close to the sea. The buildings are surrounded by wooded ridges and some agricultural land. Here is Billdal's park where a large, traditional midsummer celebration is arranged every midsummer.
Billdal was originally an agricultural town and some of the older villas have their origins as farm properties. The oldest parts are along the coast from Killingsholmen and south. The town is today a suburb of Göteborg and has been heavily densified.
Killingsholmen is a peninsula in Billdal in the municipality of Gothenburg. On Killingsholmen there is, among other things, a municipal marina and Killingsholmens Varv.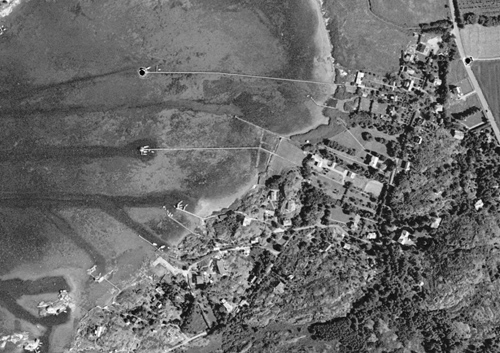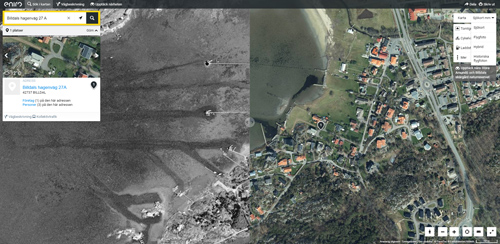 Hisoric maps from 1961 show the old long jetty (brygga) where the photographer and his crew made the photos of the PV445 Duett.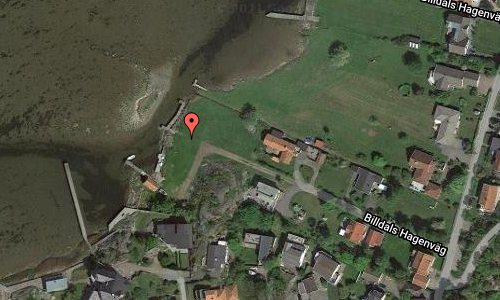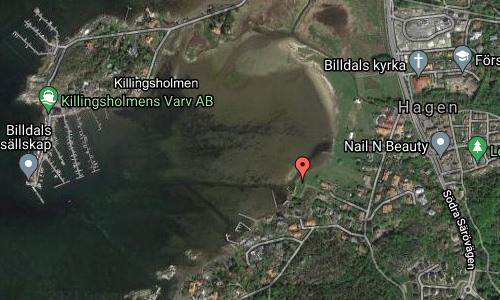 More information on sv.wikipedia.org, naturkartan.se and billdal.se.