International Volvo Photo Locations Part 486



The Dongdaemun Design Plaza, abbreviated as DDP, is a major urban development landmark in Seoul, South Korea designed by Zaha Hadid and Samoo, with a distinctively neofuturistic design characterized by the "powerful, curving forms of elongated structures". The landmark is the centerpiece of South Korea's fashion hub and popular tourist destination, Dongdaemun, featuring a walkable park on its roofs, large global exhibition spaces, futuristic retail stores and restored parts of the Seoul fortress.
The Dongdaemun Design Plaza (DDP) was designed by British Iraqi architect Zaha Hadid, winner of the 2004 Pritzker Prize, with the concept of "Metonymic Landscape."
Metonymy refers to a method of describing a specific object indirectly and, Hadid integrated historical, cultural, urban, social, and economic aspects of Seoul deduced from this method in order to create a scene of the landscape. Designed as a cultural hub in the historical district of Seoul as well as Korea's largest fashion district, the DDP is composed of undulating surfaces that resemble the flow of liquid and allow flexibility in space.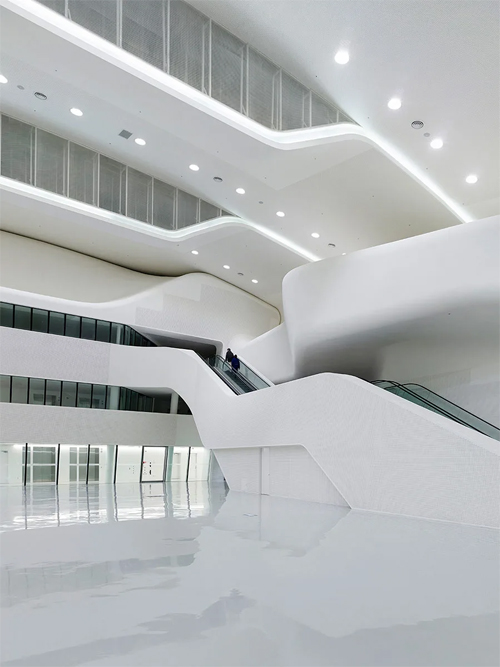 The state-of-the-art BIM (Building Information Modeling), mega-truss (extra-large roof truss) system, and space frame system are the key features in terms of creating grand-scale spaces. According to Hadid, the fundamental features of her design were "transparency, porousness, and durability."
Many ecological features, double-skin facade, solar panels, and recycling water system are included in the building.
More information at en.wikipedia.org, divisare.com and ddp.or.kr.