International Volvo Photo Locations Part 505



Mountainside Road leads towards Steenbras Lookout Point in Gordons Bay near Cape Town in South Africa.
The Steenbras Water Treatment Plant Lookout Point, involves a short drive up the mountain overlooking Gordon's Bay, followed by a walk along a narrow ridge (if you are brave/steady enough) to a clearing that gives you a great view of the treatment plant itself, not to mention an even better view over Gordon's Bay.
Steenbras Dam is well worthwhile as the view over this section of coastline is truly beautiful with Gordons Bay's housing hugging the steep slopes and the flat lands of Somerset West beyond. This view, over this very large extent of azure blue, deepening to ultramarine, waters of False Bay, has a most calming and tranquil effect on one – a breathtaking experience, all from one vantage point!
Gordon's Bay is a harbour town in the Western Cape province of South Africa. It is included in the City of Cape Town metropolitan municipality as a suburb of the Helderberg region (formerly called Hottentots Holland). It is situated on the shores of Gordon's Bay in the northeastern corner of False Bay about 58 km from Cape Town to the south of the N2 national road and is named after Robert Jacob Gordon (1743–1795), the Dutch explorer of Scottish descent.
Gordon's Bay is the smallest of three towns in the Helderberg region (Somerset West, Strand and Gordon's Bay), so named after the Helderberg Mountain which is part of the Hottentots-Holland Mountains which border the locality on two sides. Gordon's Bay was originally named "Fish Hoek", many years before the town of the same name, located on the western side of False Bay, was founded. Evidence of this can be seen on the outside wall of the local Post Office.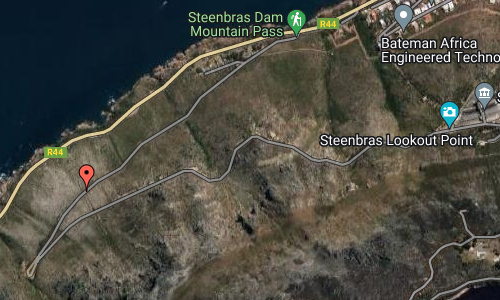 More information at gordonsbay.travel and en.wikipedia.org.