Volvo Photo Locations Part 23


Stortorget is a small public square in Gamla Stan, the old town in central Stockholm, Sweden. It is the oldest square in Stockholm, the historical centre around which the medieval urban conglomeration gradually came into being.
Number 22, the green building on the left side of Kåkbrinken, is from 1758 but is standing on medieval walls.
The buildings on Number 18-20 were merged in the 17th century and subsequently named after Johan Eberhard Schantz, the secretary of Charles X Gustavus who also added the stepped gable and the grand portal on the left building. Parts of the interior still reflect the luxury which surrounded the royal secretary. The 82 white stones on Number 20, Ribbinska huset ("House of Ribbing") or Schantzka huset ("House of Schantz"), are occasionally said to symbolize the heads decapitated by the Danish king in 1520. The house was, however, built no later than 1479, when it appears in historical records. The former of the names refers to the councillor Bo Ribbing who gave the property to Schantz in 1627, who added the stones the following year.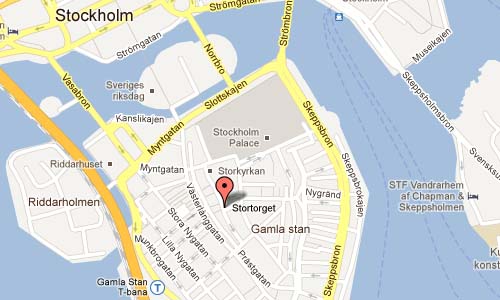 More information on en.wikipedia.org and www.visitstockholm.com.