Volvo Photo Locations Part 99


Bohus fästning lies along the old Norwegian – Swedish border in Kungälv, Bohuslän north east from Hisingen where the Göta river splits into two branches (20 kilometres north of Göteborg). It commands its surroundings from a cliff 40 metres high, with the river forming a natural moat around it.
Bohus fortress is a remarkable place. It has been under seige by Swedish, Danish and Norwegian forces at least 14 times, but to no avail. According to legend, a faithful dog put the first stone in place in A D 1308, making the fortress impossible to conquer.
In the courtyard, you will find the old well that was created by prisoners four hundred years ago, so that the crew would have access to drinking water during prolonged attacks. Toiling in the growing abyss of the well was parallell to the death sentence. Huge quantities of wood were burned directly on the rock face, enabling the prisoners to scrape off a few pieces of granite, cracked by the heat. Then the procedure was repeated until water was struck, some 20 meters down.
The events and personalities of Bohus fortress make it a masterpiece of Nordic cultural heritage, the local historic vortex is made of kings, queens, saints, pirates and witches. Today, thousands of visitors explore the impressive ruins every year, fascinated by stories of war, betrayal and imprisonment.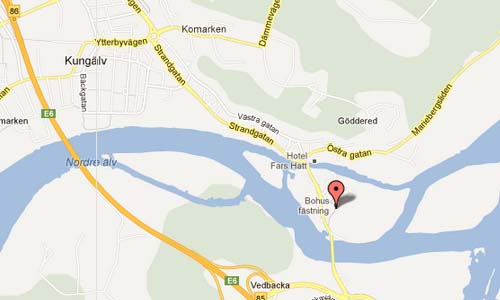 More information on www.bohusfastning.com and wikipedia.org