Volvo Photo Locations Part 95


Borås combines all the wealth of choice of a big city with the convenience of a small town.
As the second largest municipality in western Sweden, Borås offers a rich choice of public services, trade and commerce, cultural events, recreation and education, as well as a highly specialized labour market. Proximity to both Gothenburg and Landvetter International Airport is a major asset.
Borås is the Swedish centre for textiles and clothing with several famous companies, and a city of commerce with its 1 500 import and export companies. A lot of well-known mail order and e-commerce companies are located in Borås. Supporting this booming commerce is a large number of companies working with logistics, distribution and marketing.
The University of Borås offers courses and research in fields such as computer science, economics, textiles and engineering. Borås has a rich cultural life and has become famous for its many sculptures. There is also a symphony orchestra, a professional theatre cast, a renown art's museum, and more.
The new building on the picture above is the new headquarters of Gina Tricot.
As Scandinavia's fastest growing fashion retailer for women, Gina Tricot has achieved a turnover of SEK 2.5 billion in 2012. It is shared across about 175 stores in five countries and online sales.
The success was made possible by our own designs and short lead times, but above all by an exceptionally high turnover speed, i.e. the industry term for how short a time a garment is available in the store.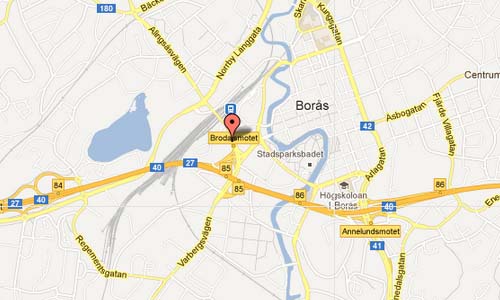 More information on www.boras.se, www.ginatricot.com and www.polestar.se