Volvo Photo Locations Part 106


Stenpiren, early called Skeppsbron, is a pier, built in stone outside Skeppsbroplatsen in the harbor of Göteborg. The pier was built in the years 1844-1845, and received its present name in 1883. In this place was formerly a half as wide wooden pier, which was one of the city's first quay facilities. From here all ferries started before. Stora Bommens Hamn was directly northeast of the stone pier at the entrance to the Stora Hamnkanalen.
When Stenpiren became too small they built just west of this, Ångslupspiren or wooden pier in 1922, which was demolished on February 4, 1954.
When Götaverken needed in 1973 more elbow room at its floating dock the Stenpiren was cut by 42 meters. Its current quay length is 215 meters and the depth 3-6 meters.
"Marstrandsbolaget" and "Bohuslänska kusten" had here their steamers moored here.
On the pier, there is a copy of the Delawaremonumentet (also called Kalmar Nyckelmonumentet or Nya Sverigemonumentet). It is a sculpture by Carl Milles. The monument memories the colonisation of the New Sweden or Nya Sverige in the USA. The original stands in Christina State Park in Wilmington, USA.
The boat on the photo, is steamboat Falken. Built in 1891 for Jönköpings Mekaniska Verkstad under the name Guldkroken. In 1936 it was sold to Trafik AB Öckerö Skärgård and renamed to Falken and renovated. It served duty in Göteborg untill 1964 when it was sold to Karl Gunnar Axel Ljungh in Stockholm. There it stayed at Norr Mälarstrand as a clubhome. On 27 januari 1968 it sunk till 15 meters deep just outside Fredhäll, Kungsholmen in Stockholm.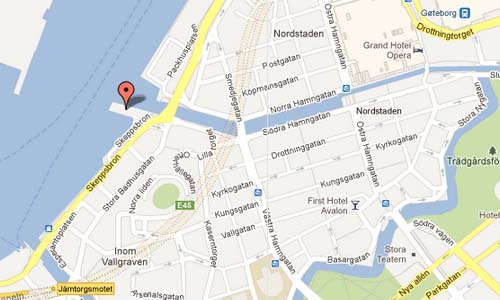 More information on wikipedia.org, www.walona.se and www.sjohistoriska.se.