Last part of our Volvo Factory Tour, organised by the Volvo-forum.nl, was the presentation of the new Volvo V40 in the Design Center. Fellow country man Fedde Talsma, Chief Designer at Volvo Car, had made some time free to explain us about the design process at Volvo and the V40 specific. Fedde has been involved in car design since the early eighties.
Very interresting to hear about the long process designing a cars that needs to be launched five (5!) years later. Fedde showed this with three cars, of which two were earlier clay models (on real size) and the final model.
The amazing Design Center.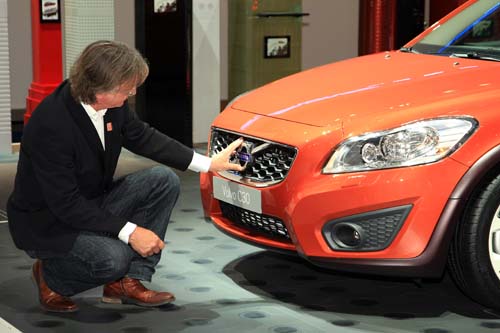 Fedde explaining the design of a previous model, his C30 redesign.
The new V40 model, with the V lined nose, the hockey stick curves on the side, the spacious sunroof etc.
For me personally, it was the second time that I met Fedde Talsma. In 1983, we both entered a Volvo design competion by the Dutch car magazine 'AutoSelect'. The goal was to design the new Volvo 340! Fedde won the competion with a great design and was hired by Volvo Cars in The Netherlands afterwards. I was among the best 20 and was invited to visit the Volvo factories in Holland, then. The rest is history!
Feddes winning design in 1983.
The great Volvo Factory Tour was finished for us with an unoffical picture in front of the Volvo Headquarters.
The 2012 – Volvo Factory Tour by Volvo-forum.nl:
– Pininfarina Uddevalla (factory where the C70 is produced)
– SAAB Museum in Trolhättan
– Blue train tour through the factory on Torslanda
– Brand Experience Center on Torslanda
– Volvo Crash Center with live crash test
– lunch with Lex Kerssemakers, Senior Vice President Product Strategy & Vehicle Line Mgt. at Volvo Car Corporation
– test drive of all current models at the Volvo Demo Centre
– presentation of the new V40 by Fedde Talsma Chief Designer at the Volvo Design Center