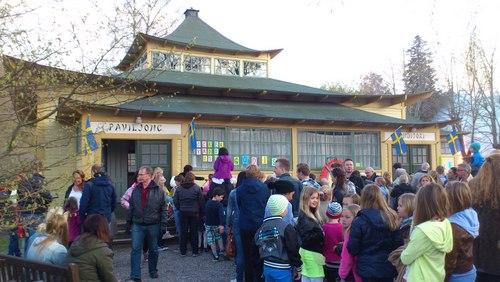 Valborgsmässoafton / Walpurgis Night
In Sweden, Walpurgis Night (Swedish: Valborgsmässoafton or simply Valborg) has more or less become a de facto half holiday. The forms of celebration in Sweden vary in different parts of the country and between different cities.
One of the main traditions in Sweden is to light large bonfires, a custom that is most firmly established in Svealand and may have begun in Uppland during the 18th century: "At Walpurgis (Valborg), farm animals were let out to graze, and ever since the early 18th century bonfires (majbrasor, kasar) have been lit to scare away predators."
Singing traditional songs of spring is widespread throughout the country. The songs are mostly from the 19th century and were spread by students' spring festivities. The strongest and most traditional spring festivities are also found in the old university cities, such as Uppsala and Lund, where undergraduates, graduates and alumni gather at events that last most of the day from early morning to late night on 30 April, or sista april ("The Last Day Of April") as it is called in Lund and often Uppsala. More modern Valborg celebrations, particularly among Uppsala students, oftentimes consist of enjoying a breakfast including champagne and strawberries. During the day, people gather in parks, drink considerable amounts of alcoholic beverages, barbecue and generally enjoy the weather, if it happens to be favourable.
In Uppsala, since the mid-1970s, students also go rafting on Fyrisån through the centre of town with home-made, in fact quite easily wreckable, and often humorously decorated rafts. Several nations also hold "Champagne Races", where students go to drink and spray champagne or somewhat more modestly priced sparkling wine on each other. The walls and floors of the old nation buildings are covered in plastic for this occasion, as the champagne is poured around recklessly and sometimes spilled enough to wade in. Spraying champagne is, however, a fairly recent addition to the Champagne Race. The name derives from the students running down the downhill slope from the Carolina Rediviva library, toward the Student Nations, to drink champagne.
More Walpurgis Night or Valborgsmässoafton