Will Volvo introduce a successor to the famous 850 racing?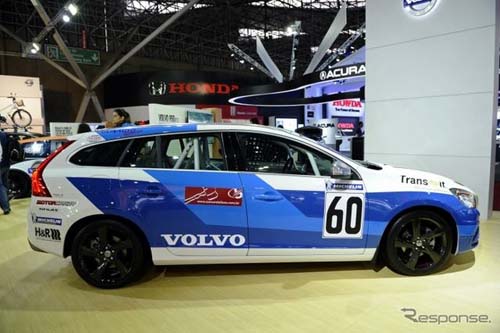 The Volvo V60 Racing will be based on the V60 wagon, sporting livery that pays tribute to the classic 850 model race cars that competed in the British Touring Car Championship (BTCC) back in the 1990s. The Volvo 850 Racing team came to be back in 1994 with Formula One driver Jan Lammers and Rickard Rydell behind the wheel of the Volvo 850 Wagon race car. The front-wheel drive racer was powered by a 2.0-liter, five-cylinder with 280 hp.
Unclear is still if the car will be entered in any race, in South America or in Europe (BTCC or STCC).
As promised, Volvo Cars Brazil unveiled the new Volvo V60 Racing on the International Auto Show in São Paulo. The sportswagon is a tribute to the legendary Volvo 850, who in 1994 competed in the British Touring Championship in Europe.
"The V60 Racing is our way to show our history on the racetracks, which began in 1928 with the Volvo Jakob OV4 and continues today with modern cars prepared by Polestar," explains Paul Solti, president of Volvo Cars for Brazil and for Latin America. "And it is also a means to demonstrate the sports character of this V60, our Sportswagon."
The Volvo V60 Racing received the painting white and blue, in allusion to the 850. The original design was slightly modified to follow the aerodynamic lines of Sportswagon. Receiving 18-inch wheels painted in gray, just like the model 850, with Michelin Pilot Sport tires as 235/40 R18. The suspension has specific competition springs, which reduce the height from the ground and enhance the performance of the Volvo V60 racing on the track.
Internally, all the sophistication fittings in the car were removed, with a Santantonio designed according to the standards of the FIA and stainless steel plates, which replaced the lining of the doors. The original R-Design seats were replaced for a competition seat with a four points belt was installed. The steering wheel is also competitive.
The engine that drives the Volvo V60 Racing is the T5, 2.0 turbo four-cylinder, direct injection and an output exceeding 250 hp. A six-speed automatic transmission and double clutch ensure the good performance of this sporty front-wheel drive.
If all goes well, the car will be entering the 2013 Copa Petrobras de Marcas.
Sources: salaodoautomovel.com.br – responsejp.com – luxusauto.com.br