International Volvo Photo Locations Part 9


The Deer Isle Bridge is a suspension bridge spanning Eggemoggin Reach in the state of Maine. The bridge is the only vehicular connection from the Maine mainland to Little Deer Isle, one of the segments that make up the island.
The span was completed in March 1939 with a main span of 329 meters. The bridge was designed by Holton Duncan Robinson and David Bernard Steinman.
It encountered wind stability problems that were similar to those of the Whitestone Bridge and the original Tacoma Narrows Bridge, which collapsed shortly after it opened. The problems led to modifications which included numerous cable stays connecting cables to the tower and tower to the deck. The span today carries two narrow lanes of State Route 15.
A re-decking project was completed in May 2008. Repainting started in mid-2010 has been completed.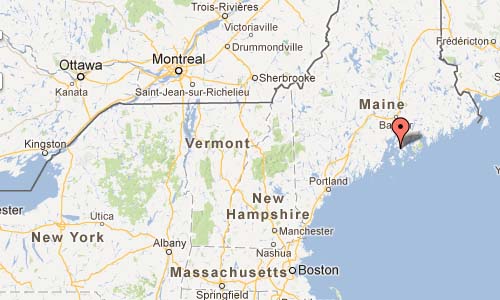 More information on en.wikipedia.org and www.deerisle.com.