International Volvo Photo Locations Part 21


Van Ness Avenue is a north-south thoroughfare in San Francisco, California, running from Market St north to the Bay. Originally named Marlette Street, the street was renamed Van Ness Avenue in honor of the city's seventh mayor, James Van Ness. Van Ness Avenue begins at Market Street near the Civic Center, and extends north to end at McDowell Avenue at Fort Mason.
Of the more striking landmarks along the route are the San Francisco City Hall, the War Memorial Opera House, and Louise M. Davies Symphony Hall.
South Van Ness Avenue is the portion of Van Ness south of Market Street, continuing through the city's South of Market and Mission districts to end at Cesar Chavez Street. It was formerly a continuation of Howard Street, having been renamed by resolution of the Board of Supervisors on August 22, 1932.
The Central Freeway is a roughly one-mile (1.5 km) elevated freeway in San Francisco, California, United States, connecting the Bayshore/James Lick Freeway (US 101 and I-80) with the Hayes Valley neighborhood. Most of the freeway is part of US 101, which exits at Mission Street on the way to the Golden Gate Bridge. The freeway once extended north to Turk Street, and was once proposed to form part of a complete loop around downtown (along with the Embarcadero Freeway), but was damaged in the 1989 Loma Prieta earthquake and has been replaced with the surface-level Octavia Boulevard north of Market Street.
The picture is taken at the crossing of the South Van Ness Avenue and 13th Street, under the Central Freeway (101).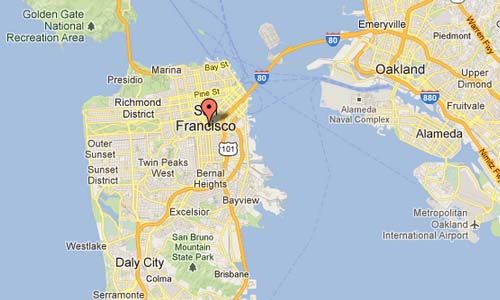 More information on en.wikipedia.org and www.sanfranciscodays.com.