International Volvo Photo Locations Part 48


The Fire Stones Restaurant is a populair restaurant in Quechee near Hartford, Vermont USA.
Dine in the warm glow of our handmade wood-fired oven and experience the very best of New England. Tradition, rugged natural beauty & great value are the hallmarks of any visit to Fire Stones and our extensive menus & daily specials are sure to offer something for every taste and appetite.
Quechee is located along the Ottauquechee River in the western part of the town of Hartford. U.S. Route 4 passes through the CDP, just south of the village center, connecting with Woodstock and Rutland to the west and with White River Junction to the east. Quechee Gorge forms the southeastern edge of the CDP.
The Quechee State Park is located along US Route 4, and its proximity to many Upper-Valley attractions makes the park a popular tourist destination. Hundreds of thousands of visitors stop each year to take in the breathtaking views of the Quechee Gorge. Other visitors seeking an overnight stay enjoy the easy access to the park's spacious campsites.
The focal point of the park is Vermont's deepest gorge, formed by glacial activity approximately 13,000 years ago. Visitors can look down at the Ottauquechee River, flowing 165 feet below viewing points along Route 4.
The land on which the park is located was originally owned by the A. G. Dewey Company, a major wool processor in the 19th century. Mr. Dewey settled in the Quechee area around 1869, establishing a woolen mill. The Dewey Company was a very successful processor of wool and employed as many as 500 people, many in the mill village.
Water from falls and the mill pond just above the gorge were used to power the facility. Dewey began making fine satinets in 1836, and shoddy (reworked used wool) in 1841. Numerous machinery and product inventions were created here, including Sheep's Grey and Dewey's Gray which was trademarked in 1875. Both types of wool were known for general excellence throughout the country and became the standard fabric for roller coverings in cotton mills.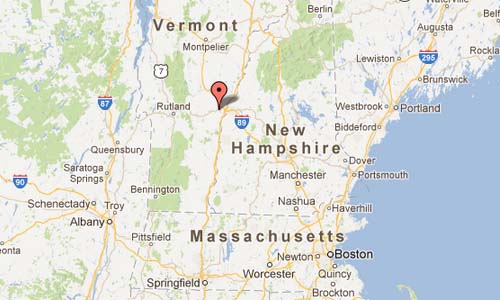 More information at www.firestonesrestaurant.net and www.vtstateparks.com.