International Volvo Photo Locations Part 56


Orlando Avenue is located in Fairfax District in Los Angeles USA. The Fairfax Distric is roughly bordered by West Hollywood on the north, Highland Avenue on the east, West Hollywood and Beverly Hills on the west and Wilshire Boulevard on the south. The Fairfax District is sometimes confused with Park La Brea, which is a real estate development within the District, and the curious Beverly Hills Adjacent, particularly on housing rental advertisements. The section of Fairfax Avenue filled with traditionally Jewish businesses is sometimes referred to by Angelenos as Kosher Canyon or "The Bagel District." Beginning around 2005, real estate listings controversially began to define the western part of the area as Beverly Grove when listing homes for sale.
Historically, the Fairfax District has been a center of the city's Jewish community. In the early 20th century, with an expanding population and more young families, many began looking for new housing. As a result of this, many middle class Jewish families moved west from Boyle Heights, City Terrace, East Los Angeles and Montebello to the area around Fairfax Avenue, a street they lined with Kosher delis, restaurants, butcher's and baker's shops and fish markets, creating a unique village in the heart of the city.
In the late 1970s, after Governor Jerry Brown canceled the Beverly Hills Freeway, which would have razed the entire length of Melrose Avenue, that avenue became known as a street of funky shops, restaurants and galleries. The early 1980s brought media attention and a new revitalized look to the area. Today, Melrose Avenue remains a fashion district. It is perhaps similar to parts of SoHo and Greenwich Village in New York City, as well as the Haight-Ashbury and Upper Fillmore districts of San Francisco.
Photo of the Volvo S40 in front of the Cleaners & Laundry is taken at the corner of Orlando Avenue and West 3rd Street. Today, on this place, a Magnolia Bakery is located (8389 West 3rd Street (at the corner of Orlando) Los Angeles, CA 90048)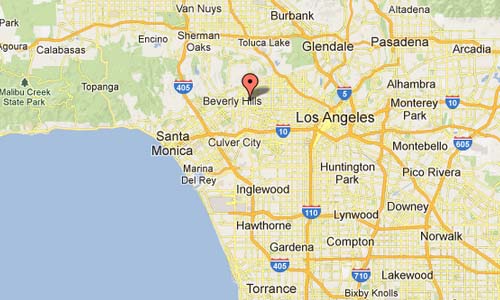 More information at www.magnoliabakery.com and en.wikipedia.org.