International Volvo Photo Locations Part 87



From the parking spot in the Elysian Park, you can get a great view on Dodgers Park and the skyline of Los Angeles.
Elysian Park is a park and adjacent neighborhood in the City of Los Angeles, California.
Encompassing Chavez Ravine where Dodger Stadium is located, Elysian Park is mostly a hillside community that is also home to the Los Angeles Police Academy.
The park itself is the second largest park in Los Angeles at 2.4 km². It is also the city's oldest park, founded in 1886 by the Elysian Park Enabling Ordinance. It hosted the shooting and the shooting part of the modern pentathlon events for the 1932 Summer Olympics. In 1964 the Citizens Committee to Save Elysian Park was founded to prevent the City of Los Angeles from constructing the Municipal Convention Center on 250,000 m2 of park land. Parkside residents enjoy the large and fruitful avocado trees that grow in the park.
Dodger Stadium, occasionally referenced by local sportscasters with the metonym Chavez Ravine, is a stadium in Los Angeles. Located adjacent to Downtown Los Angeles, Dodger Stadium has been the home ballpark of Major League Baseball's Los Angeles Dodgers team since 1962. Dodger Stadium was constructed from 1959 to 1962 at a cost of $23 million, financed by private sources.
Dodger Stadium is currently the third oldest ballpark in Major League Baseball (behind Fenway Park in Boston and Wrigley Field in Chicago) and is, by seating capacity, the largest ballpark in the world.
The stadium hosted the 1980 MLB All-Star Game, as well as games of the 1963, 1965, 1966, 1974, 1977, 1978, 1981, and 1988 World Series.
Dodger Stadium has hosted many historic events including the baseball competition of the 1984 Summer Olympic Games, mass celebrated by Pope John Paul II in 1987, and the finals of the 2009 World Baseball Classic.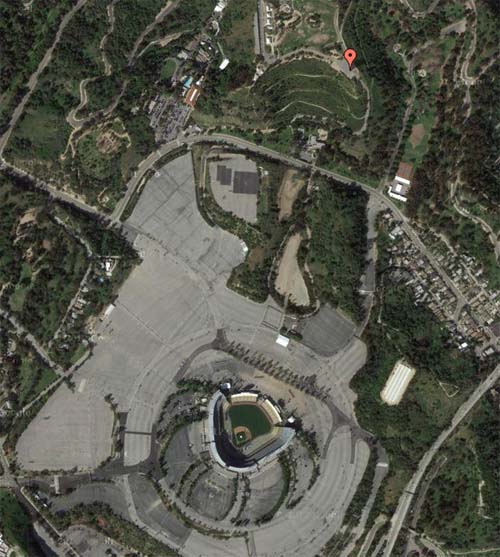 More information at en.wikipedia.org