International Volvo Photo Locations Part 93


Willow Springs International Motorsports Park is located in Willow Springs near Rosamond and Lancaster, California, and is about an hour north of Los Angeles. It is a historic race track, in existence more than fifty years. Construction of the track began in 1952, with the inaugural first race held on November 23, 1953. The main track is a challenging 4.0 km long road course that is unchanged from its original 1953 configuration. The interesting elevation changes and high average speeds make it a favorite of many road racing drivers.
Willow Springs International Raceway Park also features other racing facilities such as The Streets of Willow (1.8 mile road course), The Horsethief Mile (road course), Willow Springs Speedway (1/4 mile paved oval), Willow Springs Kart Track (a .625-mile, 9-turn paved sprint track), The Playpen (a 1/4-mile paved training track), and the Walt James Stadium (Clay Oval and Paved Oval).
Efforts by fans have resulted in the State of California declaring Willow Springs International Raceway as a California Point of Historical Interest in 1996.
Willow was used by George Lucas in 1:42:08 A Man and His Car (1966)
The track is in the 1985 Christopher Cross music video "Every Turn of the World"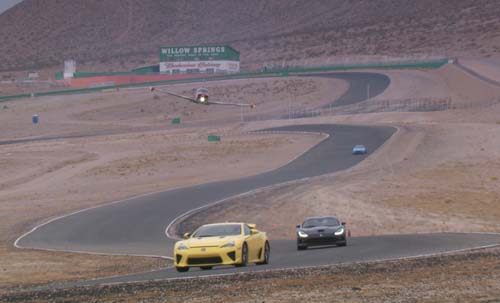 On 3 February 2013 the track featured on the British BBC program Top Gear, while Jeremy Clarkson, Richard Hammond, and James May were being chased by aeroplanes.
In 2012 K-PAX Racing was invited to take part in the upcoming Born To Race movie sequel. In October the team packed up two C30 race cars in one of our haulers and headed down to the big track at Willow Springs. They spent a week there shooting the big final race sequence and had a great time doing it. 2012 US Touring Car Champion, Robert Thorne, piloted one of the cars and Michael Wong, K-Pax driver was behind the wheel of the other.
Here is the trailer of the movie: Born To Race: Fast Track or their website borntoracemovie.com/.
More information at en.wikipedia.org and www.willowspringsraceway.com.