International Volvo Photo Locations Part 111


Palau de les Arts Reina Sofia or in Spanish: Palacio de las Artes Reina Sofía; is an opera house and cultural centre in Valencia, Spain. It opened on 8 October 2005; its first opera staging was of Beethoven's Fidelio on 25 October 2006. The photo of the Volvo XC60 was taken on the bridge in fron of the building, Pont de Montolivet or Puente de Monteolivete in Valencia.
Queen Sofía Palace of the Arts is the final structure built of a grand City of Arts and Sciences concept designed by the Valencia-born and internationally known architect Santiago Calatrava, which began in 1995. The building was constructed by a joint venture of Dragados and Necso and it was opened on 8 October 2005.
The building rises 14 stories above ground and includes three stories below ground. Its height is 75 metres, being the tallest opera house in the world. Under the expansive curved-roof structure, 230 m in length, the 40,000 m2 building contains four auditoriums:
The Sala Principal (Main Hall), The Auditorium, Aula Magistral and Martí i Soler Theatre.
The building suffered a number of incidents after its opening, which hampered initial productions. The first of these was the collapse of the main stage platform while it was bearing the complete set of Jonathan Miller's production of Don Giovanni in December 2006. That forced the Palau to cancel the last performance of La Bohème and all of La Belle et la Bête, and meant that the management had to reschedule the remainder of the inaugural opera season. In November 2007, the entire cultural complex suffered a series of floods. The recently re-built stage platform was paralysed once again because almost 2 m of water entered the lower floors of the building and wrecked the electronics and the motors of the complex stage equipment, forcing the management to re-schedule the season again, delaying the premiere of Carmen and canceling the opera 1984.
Architect Santiago Calatrava Valls, born 28 July 1951 is a Spanish architect, sculptor and structural engineer whose principal office is in Zürich, Switzerland. He has offices in Zürich, Paris, Valencia, and New York City (where he now resides).
Calatrava's projects have often been completed late and over budget, resulting several times in real or threatened litigation against him. The City of Arts and Sciences complex in his native Valencia ultimately cost around €900 million, almost triple what was originally budgeted, over a 13-year period. Ignacio Blanco, a United Left member of the Valencian provincial parliament, estimates that the city, financially strapped as a result of country's ongoing economic crisis, still owes €700 million.
Other known works of Santiago Calatrava is:
1983–1990, Stadelhofen Railway Station, Zürich, Switzerland
1983–1989, Hall of Lucerne railway station, Lucerne, Switzerland
1984–1987, Bac de Roda Bridge, Barcelona, Spain
1989–1994, TGV Station, Lyon, France
1992, Montjuic Communications Tower at the Olympic Ring, Barcelona, Spain
1994, Mimico Creek Bridge, Humber Bay Parks, Toronto, Ontario
1994–1997, Campo Volantin Footbridge, Bilbao, Spain
1998, Gare do Oriente, Lisbon, Portugal
2000, New terminal at Bilbao Airport, Bilbao, Spain
2001, Milwaukee Art Museum, Milwaukee, Wisconsin, U.S.
2002, Wave, in Dallas, Texas at the Southern Methodist University Meadows Museum
2003, James Joyce Bridge, bridge over River Liffey, Dublin, Ireland
2003, Auditorio de Tenerife, the architect's first performing arts facility, Santa Cruz de Tenerife, Spain
2004, Sundial Bridge at Turtle Bay, Redding, California, USA
2004, Three bridges (called Harp, Cittern and Lute) spanning the main canal of the Haarlemmermeer, Netherlands
2005, Turning Torso, Malmö, Sweden
2007-2012 Margaret Hunt Hill Bridge, Dallas, Texas, U.S.
2009, Liège-Guillemins TGV Railway Station, Liège, Belgium
2009, Samuel Beckett Bridge, bridge over River Liffey, Dublin, Ireland
2012, Peace Bridge, Calgary, Canada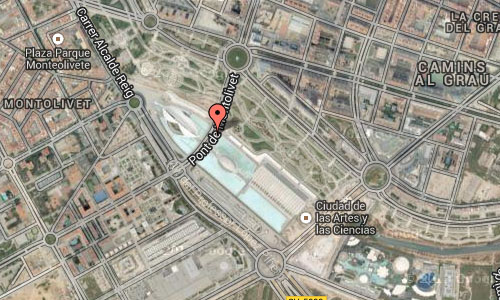 More information on en.wikipedia.org and The City of Arts and Sciences in Valencia website