International Volvo Photo Locations Part 124


Calata Marconi is located in the Italian fishing village Portofino, now an upmarket resort famous for its picturesque harbour and historical association with celebrity visitors. It is located in the province of Genoa on the Italian Riviera. The town is crowded round its small harbour, is closely associated with Paraggi Beach, which is a few minutes up the coast.
According to Pliny the Elder, Portofino was founded by the Romans and named Portus Delphini, or Port of the Dolphin, because of the large number of dolphins that inhabited the Tigullian Gulf.
In the late 19th century, first British, then other Northern European aristocratic tourists began to visit Portofino, which they reached by horse and cart from Santa Margherita Ligure. Aubrey Herbert was one of the more famous Englishmen to maintain a villa at Portofino. Eventually more expatriates built expensive vacation houses, and by 1950 tourism had supplanted fishing as the town's chief industry, and the waterfront was a continuous ring of restaurants and cafés.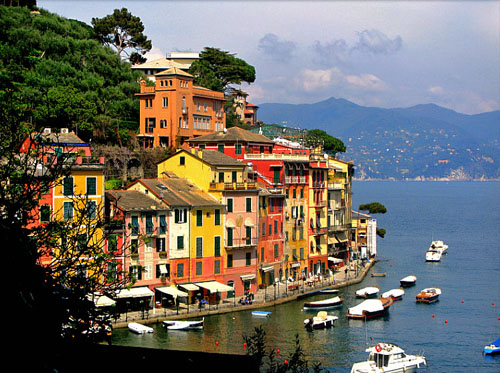 Portofino's semi-circular waterfront is lined with pastel-coloured houses with frescoed faades and geranium-covered roof terraces and surrounded by pine trees and olive groves. The harbour itself is dotted with a variety of vessels – from little wooden fishing boats to huge yachts with full crews. The cobbled piazzetta in front of the harbour is the best place for eating, drinking or checking out the designer shops on the waterfront.
More information on www.telegraph.co.uk Portofino-guide, www.marinadiportofino.com and www.independent.co.uk: Portofino: a port town that has evaded the uglier side of tourism