At Jalopnik.com, a great discussion was started about which were the most beautiful Formula One cars, the best F1 liveries.
This made me think about my favourites:
On october 8, Speedmonkey.com had an article about my Formula One pages with the title 'Every f1 car livery ever in one place'.
Their comment: It shows the livery of every F1 car ever made, in side profile. You can choose a team and it'll show you all the liveries from every car they've produced.
You can do the same with all F1 world champions. Just choose the champion and it'll show every car they ever drove.
Simple, neat, brilliant.
This item was picked up on october 11 by Jalopnik.com, they came with an article named 'The best F1 liveries ever', also about my Formula One pages.
And they wrote: Formula One cars have had some of the best paint schemes to ever grace an automobile. Which one is your favorite?P
I'm asking this question because Speedmonkey just pointed out that fijen.net has every F1 annual paint scheme for every team for every year that F1 has been around. Want to know what the 1975 Fittipaldi FD-02 looked like? Here it is, in all its rainbow awesome. Want to know what the 1964 Ferrari looked like? Here it is, and it ain't red.P
There are a few missing schemes that only appeared at a few races (this mind-bendingly awesome 1976 Ligier-Matra springs to mind), but it's a good start.P
Now post your favorite F1 livery and compare it to everyone else's!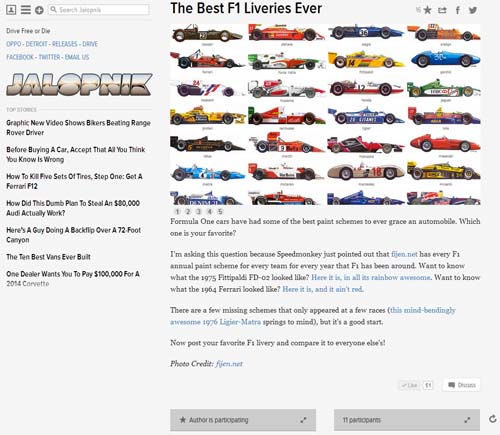 My Formula One pages with images of almost all Formula One cars between 1950 and now can be found at here (link).