International Volvo Photo Locations Part 131


Ocean Beach is located in the community of Ocean Beach. This is a wide beach, approximately one mile long, broken up by several rock jetties. A volleyball area can be found near the north end of the beach.
Dog Beach, San Diegos only 24 hour beach for dogs, is a sandy area at the north end of the beach. This is a dog run area where dogs are permitted without a leash at all hours of the day. Dog owners are responsible for control and clean-up of their dogs. Standard dog laws apply on other portions of Ocean Beach and are strictly enforced.
The Ocean Beach Municipal Pier is at the south end of the beach and is available to the public for walking and fishing. There is a restaurant and bait shop on the pier. Fishing from the pier does not require a fishing license, but catch regulations are enforced.

Ocean Beach (also known as O.B.) is a beachfront neighborhood of San Diego, California.
Surfing was introduced to San Diego at Ocean Beach in 1916 when a local lifeguard borrowed a board from Duke Kahanamoku (although it's possible that George Freeth surfed there between 1907 and 1909). By 1966, the sport was sufficiently established that the World Surfing Championship was held in O.B. Nat Young won the event and was named world surfing champion.
The Ocean Beach Municipal Pier, built in 1966, is the longest concrete pier on the West Coast at 1,971 feet (601 m).[25] The pier, which alone amongst the piers of San Diego supports a restaurant and a bait shop, is at the south end of the beach. It is open 24 hours a day. A concrete walkway spans part of the length of the 1 mile (1.6 km) beach.
The northern end of O.B.'s waterfront is known as Dog Beach. It's open 24 hours a day for leash-free dogs and was one of the first such beaches in the United States (founded in 1972).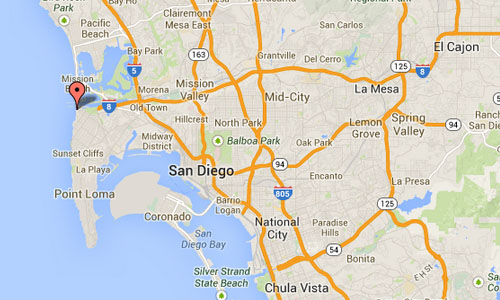 More information on www.sandiego.gov, cars-carscoop.blogspot.se and en.wikipedia.org.