International Volvo Photo Locations Part 133


Le Mas De Pierre is a luxurious hotel in Saint Paul de Vence, close to Nice in France.
Nestled at the foot of the Saint-Paul-de-Vence fortress, Le Mas de Pierre and its 7 country houses in the colours of the Provence, has a splendid Mediterranean garden with hundred-year-old olive trees.
Le Mas de Pierre offers the luxury and comfort of a 5-star hotel with 48 rooms, including 6 suites, air conditioned, terrace, loggia or private garden with view of the domain and the swimming pool.
In a two hectare park full of hundred-year-old olive trees, on the doorstep of Saint-Paul-de-Vence, Le Mas de Pierre overlooks hills and valleys. Provencal, romantic and colonial villas and rooms are hidden behind the red tiles and white stone of the bastides. When you cross the threshold, you will discover lovingly selected antique dressers and pedestal tables. As far as cuisine is concerned, our chef proposes a gourmet cuisine with the flavours of the South, composed of the finest regional specialties. Other delights include a swimming pool, a spa, a sumptuous greenhouse with orchids and a deliciously fragrant garden.
Saint-Paul or Saint-Paul-de-Vence is a commune in the Alpes-Maritimes department in southeastern France. One of the oldest medieval towns on the French Riviera, it is well known for its modern and contemporary art museums and galleries such as Fondation Maeght which is located nearby.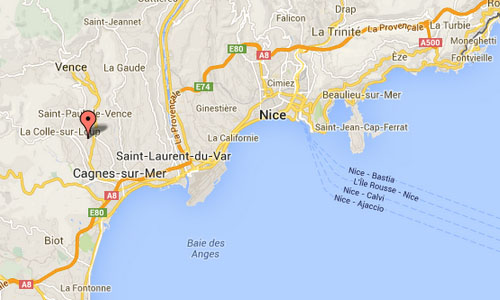 More information on www.lemasdepierre.com, www.saint-pauldevence.com and en.wikipedia.org.