International Volvo Photo Locations Part 129


Palægade is a street in central Copenhagen (Denmark). 'Palæ' means 'palace' or 'mansion' and is the Danish name for the nobility and the higher bourgeoisie Townhome for winter use. In rare cases, it is also used for royal residences, such as the Prince's Palace in Copenhagen. A mansion is typically a building of two or three floors.
Close to this street, the Amalienborg is located.
The Amalienborg is the winter home of the Danish royal family, and is located in Copenhagen, Denmark. It consists of four identical classicizing palace façades with rococo interiors around an octagonal courtyard (Danish: Amalienborg Slotsplads); in the centre of the square is a monumental equestrian statue of Amalienborg's founder, King Frederick V.
Amalienborg was originally built for four noble families; however, when Christiansborg Palace burnt down on 26 February 1794, the royal family bought the palaces and moved in. Over the years various kings and their families have resided in the four different palaces.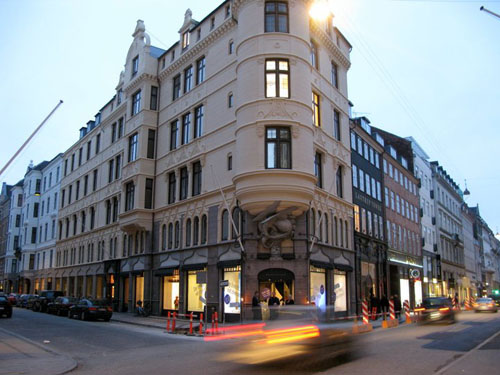 In the building pictured with the Volvo V40, on the address Palægade 15 in Copenhagen is Reputation CPH located, an advertising agency and the Danish representative of the global agency brands Publicis and Leo Burnett. They say that they are the only agency in the world which is situated in ground-level in a big shopping street. So many people know us as the agency with the creative windows, because of the exhibitions we run. In their windows they had campaigns for 'Fashion Is for idiots (like us)', 'I am too smart to sit here in a window' and 'Support Japan'.
During the shoot of the Volvo photo, they had the 'Fashion Is for idiots (like us)' campaign in the windows, asthey explain: "When Paris Hilton headed into town for Copenhagen Fashion Week in 2007, we decided to create a fashion-inspired window campaign to express our commitment to differentiation.
"Fashion is for Idiots, like us" started life at REPUTATION as a campaign to raise funds for Colombian children's charity CRAN as well as poke gentle fun at ourselves and the fashion world."
More information on www.reputationcph.com, fashionisforidiots.com and en.wikipedia.org.