1984 FIA Formula One
Round 13 – Dutch Grand Prix
Zandvoort, 24-26 August, 1984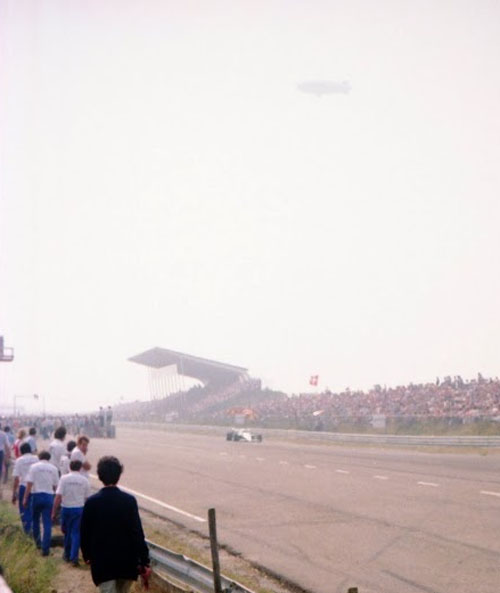 (Report by Tom Prankerd & photography by Guido Fijen)
Attention at the Dutch Grand Prix was diverted from the closely-balanced Lauda versus Prost fight by the news that Brazilian starlet Ayrton Senna had been tempted away from Toleman and signed by the Lotus team. Senna was in the first year of his contract with Toleman, and while he had clauses permitting him to speak to other teams he neglected to inform Toleman first as required. The team were further enraged by the patronising tone of the Lotus press release announcing the signing, while Senna for his part was deeply embarrassed about the timing of the announcement.
The whole fuss distracted somewhat from the thrilling duel between the McLaren drivers for the title. While Piquet was providing opposition on a race-by-race basis, Brabham's reliability problems meant he was out of the fight for the championship.
After their troubles in Austria running two cars, ATS returned to a single entry for Manfred Winkelhock.
Prost beat Piquet to pole after the Brazilian had trouble with low revs in the qualifying Brabham, instead having to hurriedly revert to his race chassis with a less powerful engine. He was still second, however, ahead of de Angelis, Warwick, Tambay and Lauda.
Williams had a good practice for a change, with Rosberg 7th and Laffite 8th, but Ferrari were once again at sea – with Alboreto 9th and 1983 winner Arnoux down in 15th. Senna was down in 13th, his worst grid position for a while.
At the back of the grid, the Tyrrell cars were faster than they had been at the previous two races, qualifying 24th (Bellof) and 25th (Johansson). This left Dutch driver Huub Rothengatter – his Spirit car repainted (for the race) in patriotic orange – as 27th fastest, but was allowed to start in case Tyrrell's appeal – due to take place a few days after the race – was turned down, in the same fashion that had allowed Gartner to race at Brands Hatch.
The morning warm-up had been delayed by 40 minutes due to a staircase collapsing in the paddock, injuring several people. However, all was well by the time of the race, with the Dutch weather being hot and sunny.
Piquet got off the line beautifully, and slotted past Prost into Tarzan, with Tambay doing the same to de Angelis.
Lauda got away badly, dropping to 11th place behind Boutsen and Fabi, while Winkelhock span the ATS and was pushed back into contention as he had come to a halt in rather an awkward place. Cheever and Hesnault were also off when the Frenchman tried a rather optimistic lunge down the inside of the Alfa Romeo and simply oversteered into it, both rejoining after losing several places.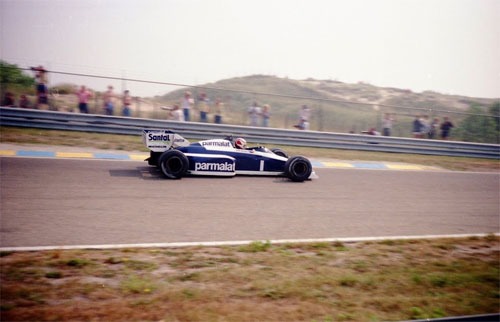 Rosberg was charging by now, up into 5th and haring down on de Angelis, while Lauda had disposed of two cars and was now looking at getting past Alboreto. He could rest easy, however, as Prost simply had nothing to match Piquet this time, the Brabham pulling away at around a second a lap, while Rosberg in 3rd wasn't such a threat. With Piquet out of the title reckoning, Prost merely had to concentrate on beating Lauda, and wasn't going to risk 2nd place. The second McLaren had picked off Warwick, who was being caught by Laffite in the second Williams, and began moving towards the battle over 4th between Tambay and de Angelis, swiftly moving past both to press Rosberg. Further back, Alboreto's Ferrari dropped out once again, while Arnoux was unable to do anything about Senna and Fabi.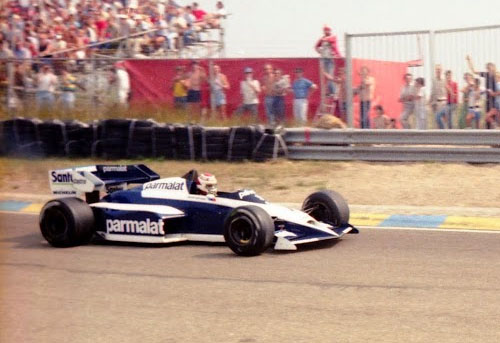 The rest became incidental on lap 11, when Piquet's engine blew out its' oil, and caused him to retire yet again. Almost simultaneously, Lauda finally forced his McLaren down the inside of Rosberg to take what was suddenly second from Rosberg, and we were left to see which of the McLarens would take victory. Prost had been left with an eight-second lead over Lauda, but the Austrian wasn't able to pull away from Rosberg with any real alacrity.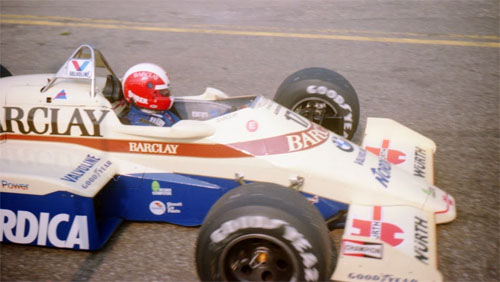 Most of the excitement for now was coming from de Angelis' attempts to get past Tambay for 4th place. The Italian was all over the Renault's gearbox, but just didn't have the speed to pull past on the straights, the battle being hard enough to draw both closer to Rosberg, with Warwick, Laffite and Fabi keeping in touch behind. Tambay and de Angelis were then split up after running as one for half-a-dozen laps when they came upon the unhappy Winkelhock, who nearly hit the Lotus twice after completely ignoring his mirrors. The German would soon retire when he and Warwick span on oil from Laffite's exploding Honda.
Still, by this time Lauda had got himself into a good groove, and had sliced the lead down to under four seconds by lap 22. Once again Prost's ability to cope with pressure would be brought into question. However, suddenly Prost responded, and pulled away – the Frenchman had misinterpreted his pit signals, believing Rosberg – 17 seconds behind – to be in 2nd. As soon as he realised Lauda, on soft tyres, was bearing down on him he switched back on and made the gap more comfortable.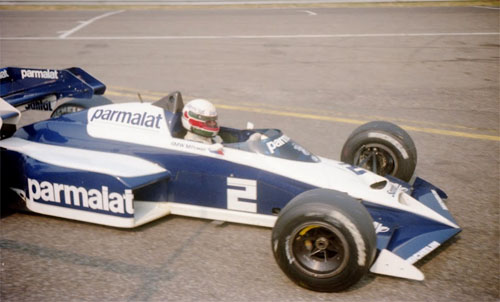 Behind, Fabi span and stopped for tyres, while Tambay also pitted for fresh Michelins. This left Rosberg with the Lotus cars of de Angelis and Mansell on his gearbox. Mansell passed them both on successive laps at Tarzan, with a big wobble as he nailed Rosberg, while a wary Prost was trying to lap all three. The trio were much more concerned with third place than letting the McLaren by, but Prost negotiated all three successfully and had built a cushion of some 15 seconds over Lauda, meaning the affair wasn't enough for his team-mate to draw in.
Indeed, Prost didn't make a single mistake all afternoon on his way to his fifth victory of the year, with Lauda second, his lead in the championship cut down to 1.5 points.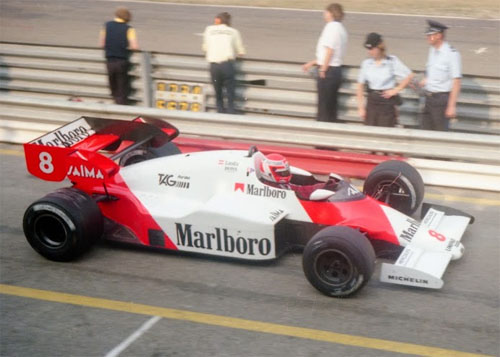 The McLaren-TAGs achieved their fourth 1-2 finish of the year, their ninth victory saw them overtake Lotus' 1978 record, and also mathematically confirm the constructors' cup would be theirs.
Mansell took third ahead of de Angelis after Rosberg's sturdy drive went unrewarded, pulling into the pits out of fuel a lap from the end. This elevated the battle between Fabi and Tambay (who had lost fifth gear) to the fight for 5th, with the Brabham driver just about having enough to take the position.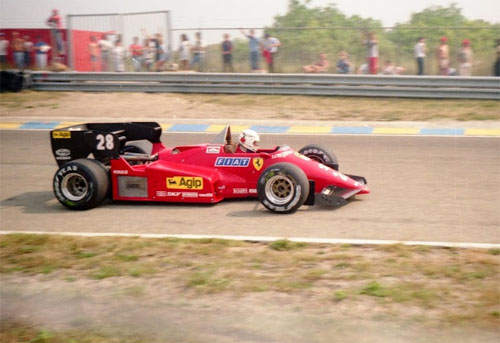 Arnoux had briefly taken 6th only for his tyres to go off, and as he pulled into the pits he neglected to signal properly, causing the following Boutsen to thump into the back of the Ferrari and retire with a deranged front-right wheel.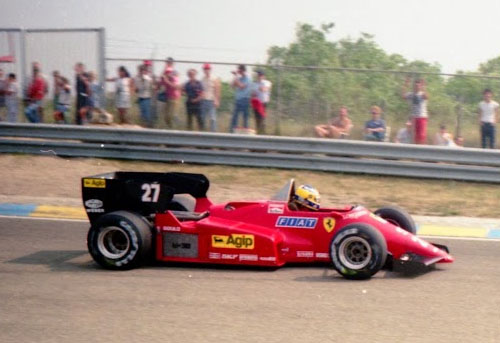 The Ferrari returned and set fastest lap in pursuit of Tambay, only to retire with an electrical fault. This left Hesnault to finish 7th, ahead of the well-driven Tyrrells of Johansson and Bellof and the RAMs of Palmer and Alliot, with Gartner the only other runner after Cheever's Alfa Romeo once again ran out of fuel, five laps from the end.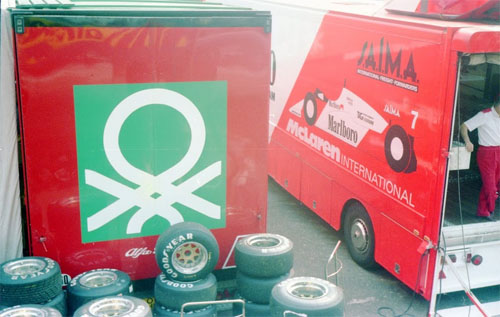 Credits
Race report by Tom Prankerd of A Second A Lap – Stories from Grand Prix History and Photography by Guido during the training days before the GP.