1982 FIA Formula One
Round 9 – Dutch Grand Prix
Zandvoort, 1-3 July, 1982
(Report by Tom Prankerd & photography by Guido Fijen)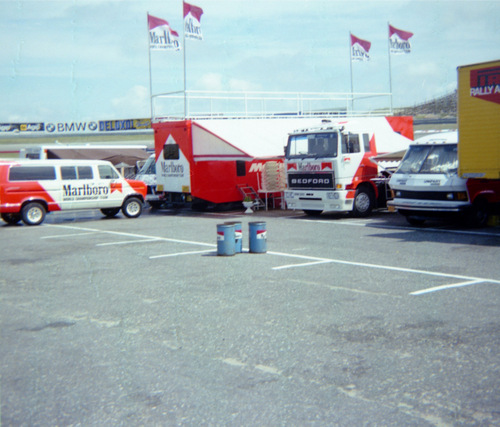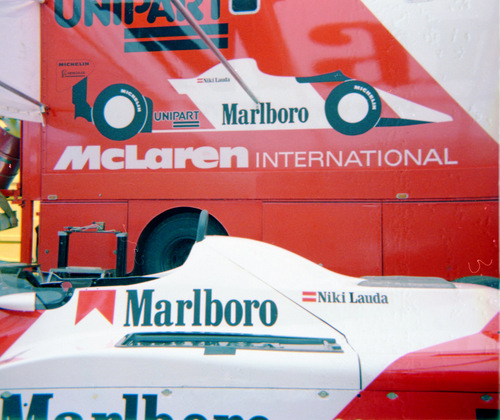 The series returned to Europe, effectively home ground for all the competing teams as they were now operating within easy range of their bases in England, Italy and France. With a wide and varied set of results so far, there was a feeling that the serious business was about to get underway with most of the more idiosyncratic circuits out of the way. Watson, Prost, Pironi and Rosberg were all very much in the running for the drivers' championship, while Piquet, Patrese, Lauda and even Arnoux weren't out of the reckoning given a couple of good results in upcoming races.
Zandvoort also kicked off a series of seven fast circuits which were expected to favour the turbos as long as they stayed reliable, but the Canadian Grand Prix had seemed to indicate that both Ferrari and Brabham-BMW were capable of matching them for speed. There was a general feeling that the French team had decisively fumbled their advantage.
Ferrari stepped back up to a two-car team for the first time since the fateful Belgian Grand Prix, with Patrick Tambay taking over car 27.
Osella, on the other hand, only had a car for Jarier, and seemed to have no plans to replace the late Paletti any time soon.
At Lotus, Mansell had injured his arm while colliding with Giacomelli in Canada, so test driver Roberto Moreno was hurriedly given a go in the second car.
Jan Lammers, his thumb recovered, returned to the Theodore in time to attempt qualification for his home race.
Ligier were going to have another go with the difficult JS19 chassis, debuted at Monaco but not raced since.
Brabham fielded BMW turbo cars for both drivers after the impressive win in Canada.
And to cap things off, Toleman finally rejoined the series (having tested successfully at Zandvoort the previous week) with their old cars for Warwick and Fabi.
The arrival of Tambay and return of the Tolemans saw the entry rise above 30, so the slowest man from the Friday morning session would be removed once more. Well, the slowest man turned out to be Moreno in the Lotus, but he was exempt due to Lotus scoring points in 1981. Next slowest was, of course, Emilio de Villota in the LBT March, yet to get into a race.
Thursday's timed session was dull and grey, and rain started a few minutes from the end. By then most had set decent times, however, which was just as well – though Friday remained dry, it was very windy and only a handful of drivers managed to improve their times.
The Renaults returned to pole position, Arnoux managing a time four-tenths faster than team-mate Prost, but Piquet was very close behind.
Pironi would start fourth ahead of Lauda, with Tambay a decent 6th for his Ferrari debut. Rosberg, Giacomelli, de Cesaris and Patrese completed the top 10, which made ominous reading for DFV runners.
Further back, Warwick qualified his Toleman a best-yet 13th, while Lammers got in at 26th in front of his home crowd for his first start of the year. Ligier, however, found the JS19 going no better than it had at Monaco, with Laffite only 21st and Cheever failing to make the grid at all after trying the JS17B spare, which then broke down on him. Joining him were Guerrero and Fabi, as well as Moreno in the Lotus. The Brazilian had proven completely out of his depth, unable to get within three seconds of team-mate de Angelis, and slowest of all. It didn't help that Mansell and de Angelis had thus far done all the testing on the 91, and he had only ever driven the 87B model.
While the turbos had the speed there were big questions as to whether they had the fuel capacity to last the race flat-out, so the DFV/V12 runners would have a chance if they harried their opponents. Saturday was grey and cloudy, and if it was to rain (which looked likely) the Cosworth cars would have the advantage. Attendance was poor after the Dutch Grand Prix had been on and off for much of the early season, and as a result of its' late confirmation was given an early Saturday afternoon slot due to the needs of TV rights holders.
Prost made the best start of the Renault drivers, leading into turn 1 from his team-mate and Pironi. Tambay had got off well in the Ferrari, leading Lauda, Giacomelli and Watson, while Piquet had got bogged down (going through the first corner in 8th) and baulked Rosberg, who dropped to 10th behind de Cesaris. Pironi was looking very potent in the Ferrari and moved past Arnoux on the second lap, while Piquet had soon recovered from his slow start, blasting past Giacomelli and Lauda before closing up on Tambay. He made it through at Tarzan on the third lap, the BMW impressively powering straight past the Ferrari. Tambay was left to the mercy of Lauda and Giacomelli, who had the charging Rosberg also bearing down on them.
Up front Pironi had closed the gap to Prost in no time at all, and at the start of the fifth lap he dived out of the Renault's slipstream for the inside line at the first turn, taking the lead. Initially he pulled away at a rate of a second a lap, but after that simply kept to Prost's pace, maintain a 4-5 second lead and watching his fuel consumption. Rosberg was flying further back, firstly taking Lauda just before Tarzan from the outside of the straight, and two laps later thrusting down the inside of Tambay to take 5th place.
The other turbo running was Warwick's Toleman. With improved Pirelli tyres and the latest evolution of Brian Hart's engine, he moved up well in the early stages and tagged onto the queue now forming behind Tambay's Ferrari, moving past de Cesaris and Watson to sit 10th. Soon after, however, his rear wing collapsed. After a long stop to replace it he rejoined at a flying speed, carving through the back markers and setting fastest lap, only for the engine to blow out all its' oil.
Patrese was now making up places after a mediocre qualifying and poor start, and followed Rosberg past Giacomelli to run eighth on lap 8, but five laps later he was in the pits for a lengthy stop to fix a broken gear linkage lever, removing him from contention. By now the main event up front was Piquet chasing after the Renaults. At the end of lap 14 he was right behind Arnoux on the straight, and once again demonstrated the horsepower of the BMW four-block by simply speeding past, being ahead of the Renault before braking into Tarzan and setting off after Prost, 4 seconds down the road.
Arnoux would only last seven more laps. Troubled by a vibration since almost the start he came through down the straight to start lap 22 at some 190mph, only for the front-right wheel and suspension to simply break off the car. Unable to slow, he ploughed straight through the Tarzan sand trap and into the tyre wall, the Renault burying itself and scattering the spectators. After a few anxious moments the Frenchman was extricated, shaken but basically unhurt.
Piquet had now passed Prost as well, catching the Renault in traffic. Prost was soon to join Arnoux in retirement, a turbo blowing before he slowly coasted into the pits to retire on lap 34. However, Piquet was unable to do much about the Ferrari ahead of him, Pironi driving a cool race. As soon as his pit board told him the Brabham was taking slight gains the Frenchman took the time straight back, and both settled for their positions and aimed for economy and reliability.
Lauda had now moved past Tambay in the second Ferrari (troubled by a slight misfire), while Watson had stopped for fresh tyres.
Patrese, with his gear linkage fixed, now tore back through the field only for his engine to go sick, dropping him back down to last place, while Daly and Alboreto both moved past Tambay. The Italian, finding his Tyrrell running well after a couple of disappointing showings, then tried to take Daly at Tarzan, only for the Irishman to close the door.
Both span off, but while Daly was able to restart smoothly Alboreto had more trouble, damaging a tyre. When Piquet then came up to lap him, Alboreto paid little attention due to his own problems, and badly baulked the Brazilian. Rosberg had been chasing the Brabham down, not having to worry particularly about fuel economy, but in the end failed to take second by just seven tenths of second.
Almost unnoticed Pironi took a superb, smooth victory to move within a point of Watson in the championship, with Piquet satisfied with second in the Brabham and Rosberg doing well to take third on a fast circuit. Lauda was happy with a sensible 4th place to score for the first time since his Long Beach victory, well clear of Daly. In sixth came Mauro Baldi, who had passed Tambay on the penultimate lap, then overhauled the stricken Alboreto to put an Arrows in the top 6 for the second race running, and show his own general improvement after a difficult start to his Grand Prix career.
Credits
Race report by Tom Prankerd of A Second A Lap – Stories from Grand Prix History and Photography by Guido during the training days before the GP.